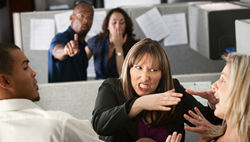 (PRWEB) October 16, 2014
Every year, a stunning 2 million Americans are injured in workplace violence incidents, and according to the Bureau of Labor Statistics, 551 homicides occur in the workplace every year. High profile stories of workplace shootings can leave workers feeling that nowhere is safe. Edy Nathan MA, LCSW, is a New York-based therapist helps people cope with anger, fear, and unresolved grief that certainly play a role in the reactive workplace violence. Nathan cautions that unresolved workplace anger festers over time, ultimately giving rise to acts of violence and aggression.
The Problem of Anger at Work
Most workers report that their jobs make them angry at least some of the time, and some employers feel chronic anger, frustration, and dissatisfaction from their employees. Over time, this anger adds up to serious consequences. Negative emotions can be a feeding ground for employees to form a clique. When there are no outlets for the workers to share their displeasure, the result can be the development of a gang of angry, frustrated and agitated employees. Anger leads to a loss of productivity, poor customer service and job apathy. Likewise, anger can be a sign of workplace problems, if employees get a whiff of discrimination, the inner turmoil can turn into an explosive situation.
A little anger is a natural reaction to the frustrations of daily life, and workers shouldn't berate themselves for periodically becoming angry. However, workplace anger that festers over time can put an entire workplace in danger, as famed workplace shootings clearly demonstrate.
Managing Workplace Anger
People who struggle with anger at work should note that expressing that anger is almost always damaging to the workplace. Instead of ventilating to co-workers or angrily quitting, try some of the following strategies instead:

Take a 10-minute break to cool your head.
Meditate to cultivate mindfulness. Mindfulness training is statistically correlated with a reduction in anger.
Get plenty of exercise, which can help to reduce feelings of anger.
Get legal assistance if you're being mistreated at work.
Begin the process of looking for a new job.
Find one or two friends at work who can act as allies and sounding boards when you become overwhelmed.
How Employers Can Help
Workplace anger doesn't come out of nowhere. Instead, it is often the product of an abusive or stressful workplace. Managers interested in fostering a friendlier workplace and minimizing the risks of workplace violence should take the following measures:

Develop an employee assistance program that includes therapy for employees who struggle with anger management difficulties.
Give employees flexibility to work from home, work different hours, and take time off for family emergencies.
Work to eliminate discrimination, and take steps to educate employees about the risks of discrimination.
Develop a program to prevent workplace bullying.
Avoid micromanaging or forcing employees to complete busy work.
Be willing to listen to alternative perspectives, and remain open to employee input.
Develop a process whereby employees can submit anonymous complaints.
Whether they are a manager, employee, or just an interested bystander, anger can be harmful. It might seem unbelievable, but therapy can help deal with even the most challenging emotions that arise when issues go unresolved in the workplace setting.
For a complimentary grief meditation and more information about other topics related to grief, loss and trauma, please visit here.
About Edy Nathan:
Edy Nathan is a licensed psychotherapist with over 20 years of experience specializing in grief. For two seasons she was the therapist on the A&E TV Show, "Psychic Kids". She holds Masters from both New York University and Fordham University. She has post-graduate training from the Ackerman Institute for Family Therapy, The Gestalt Center and the Jungian Institute. She is a certified EMDR practitioner, regression therapist, certified hypnotherapist and grief expert. To find out more, visit EdyNathan.com.