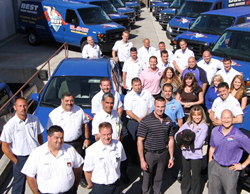 The new 40,000 square foot building, located in Naples, Florida, is one of the largest in the industry
Bonita Springs, Fla. (PRWEB) October 14, 2014
Best Home Services, a leading Southwest Florida HVAC, electrical, and plumbing service and repair company, is proud to announce an upcoming expansion to an all-new headquarters. The new 40,000 square foot building, located in Naples, Florida, is one of the largest in the industry and should be fully operational spring 2015.
"We're very excited to move our Best Home Services team to an all-new, and much needed, facility," said Keegan Hodges, co-owner of Best Home Services. "With substantially more space, an all-new training facility for our technicians, and much better parking, our new building will result in happier employees which translates to even better service for our customers."
Compared to Best Home Services current 8,000 square foot location, the new facility is five times larger and will house all-new divisions to provide even better customer service. Currently in the demolition stage, renovations to the new facility will take place until the grand opening in the spring of 2015. When complete, a 2,500 square foot in-house training facility will be included for all technician training and refreshes. A 4,000 square foot in-house parts supply house will contain hundreds of thousands of parts and supplies within Best Home Services' own headquarters. With this, the company eliminates the need for any outside parts vendors which will ultimately speed up customer repair and replacement times. Additionally, an expanded parking area will also be included in the rebuild.
"Our staff is more than just a workforce, they're family and keeping their interest in mind was a top priority when hunting for a new building," said Hodges. "As our business continues to grow, parking becomes a continual issue and we struggled to find a large enough facility that would accommodate our fleet and workforce properly. But soon, we'll have more than 100 spaces to ensure our family is taken care of so they can take care of the customer."
Since 1980, Best Home Services has been dedicated to providing Lee, Collier, and Charlotte county residents with exceptional heating, ventilation, air conditioning, electrical, and plumbing service and repair. Available 24 hours a day, seven days a week, service areas also include Fort Myers, Naples, Bonita Springs, Marco Island, Estero, as well as Cape Coral and will not change from the move. Currently owned by brothers Keegan and Chadd Hodges, the family owned and operated business employs more than 50 staff members with plans to double in size over the next three years.
To learn more about Best Home Services, visit http://www.getbest.com or call 239-284-1474
About Best Home Services
Best Home Services is a Southwest Florida HVAC, electrical, and plumbing company servicing Fort Myers, Naples, Bonita Springs, Marco Island, Estero, Cape Coral and Lee, Collier and Charlotte counties. The company provides 24/7 service and repairs and is family owned and operated. Best Home Services provide services such as air conditioning and heating, indoor air quality, unit repairs and replacements, duct cleaning, sealing and replacements as well as general service and maintenance agreements. Each repair is covered by a 1 year parts & labor warranty with lifetime guarantees available and A/C replacement parts are offered with a 10 year warranty.
###