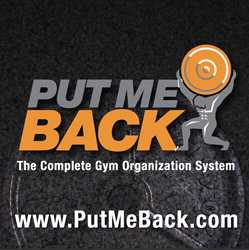 Members who think they picked up an illness at the gym probably won't work out there and may not renew their membership...- John Hughes, CEO, Put Me Back
Toms River, New Jersey (PRWEB) October 15, 2014
People sweat at the gym, that's to be expected. Sweat is healthy and that's good. But barbells, racks, and benches that are coated with sweat and then passed on to other members is not good, and potentially very unhealthy. Keeping 'Back to the Rack' and 'Wipe Me Down' top of mind for gym members is the mission of PutMeBack LLC, The Complete Gym Organization System, which just celebrated its 5th anniversary. The company announced it has expanded its line of customized stickers - including new dumbbell rack stickers - designed to help gym owners and managers remind their members to wipe down equipment and 'put it back' after each use.
Contracting various types of infections, particularly skin diseases, is common among athletes according to the National Athletic Trainers' Association, which advises that the 'maintenance of clean facilities is paramount in limiting the spread of infectious diseases.'
"Members who think they picked up an illness at the gym probably won't work out there and may not renew their membership which impacts retention," says John Hughes, CEO and founder of PutMeBack LLC. "As any gym owner or manager knows, a gym that is not clean and not clutter-free is not appealing to current or potential members. With cold and flu season coming up this is particularly important."
The PutMeBack stickers come in a variety of colors, sizes, and sayings, but the overall message is clear: Wipe down the equipment after you use it, and put it back where you got it.
For example, the blue stickers for the cardio machines remind users with the message:
'Your Mom Doesn't Work Here. Clean the Machine After Using.' Customized stickers can be placed on or near just about any equipment that members come in contact with - weights, kettle bells, ropes, and spinning bikes.
Simple reminders but an important part of workout protocol that can have an impact on a gym's success and bottom line, says Hughes. The PutMeBack line of stickers, as well as decals and bumper stickers can also be branded with a gym's logo and color scheme. The stickers are made to last for several years and withstand strong cleaning products without losing color or adhesion.
The Put Me Back products are designed to enhance the appearance of a gym, expedite members' workout time, and increase positive customer feedback. As Hughes points out, opening a gym is a monumental, passionate task and maintaining the workout area so every day looks like the first day is an ongoing battle.
"Improving members' happiness impacts your bottom line so consider that it costs more to attract new members than to retain existing members, and unhappy members are more likely to share their negative experience with new or potential members, often by posting on social media channels,"
says Hughes.
About Put Me Back LLC
Launched in 2009, Put Me Back is a gym equipment organization system that reminds members to return weights to the correct place after use. The system consists of durable, brightly colored stickers informing the user where dumbbells and weights should go. Some members simply don't know where weights belong, but with Put Me Back, they have all the information they need. They don't need to ask where to put back weights and gym staff doesn't need to remind members.
To learn more about Put Me Back customized stickers, visit http://www.PutMeBack.com