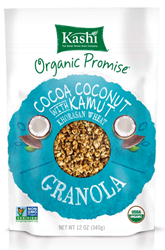 Big Sandy, MT (PRWEB) October 14, 2014
Kamut International is pleased to announce that KAMUT® brand khorasan wheat has been selected as a key ingredient in the new Kashi® Cocoa Coconut with KAMUT® Wheat Granola that will launch as part of Target's "Made To MatterTM" initiative this fall.
Made with cocoa, coconut and the hearty goodness of ancient KAMUT® brand khorasan wheat, this new Kashi® granola is the latest addition to their cereal line and is Non-GMO Project Verified and USDA certified organic.
KAMUT® brand khorasan wheat is an ancient, organic, non-GMO grain that contains a high percentage of lipids. KAMUT® wheat is also a good source of protein and is rich in antioxidants, containing minerals such as selenium and zinc. These nutritional components combined with the ancient grain's rich nutty, buttery flavor makes KAMUT® brand khorasan wheat an ideal ingredient for this cereal.
Kashi® Cocoa Coconut and KAMUT® Wheat Granola will launch as part of Target's "Made To Matter – Handpicked By TargetTM" collection in September 2014. This collection by Target aims to reach a larger share of the ever-growing, organic and natural products industry by bringing "better for you products" to the mass market. The collection will feature leading natural, organic and sustainable brands to introduce new products and also make them more accessible.
"We're very excited that Kashi® has chosen to include KAMUT® wheat in this new granola and that this will also be part of Target's expanded range of organic products. This will greatly benefit consumers by increasing accessibility and awareness about the health and nutritional benefits of organic products and ancient grains such as KAMUT® brand wheat," says Trevor Blyth, CEO of Kamut International.
The Kashi® Cocoa Coconut with KAMUT® Wheat Granola will be available at Target stores nationwide this fall for $4.99 per 11 oz. bag.
For more information on KAMUT® brand khorasan wheat, please visit Kamut International at http://www.kamut.com and for more information about Kashi® products, please visit https://www.kashi.com. To learn more about Target's "Made to Matter – Hand Picked by TargetTM" initiative, please visit http://www.target.com/madetomatter.
About KAMUT® Brand Khorasan Wheat
The mission of Kamut International is to promote organic agriculture and support organic farmers, to increase diversity of crops and diets, and to protect the heritage of a high quality, delicious ancient grain for the benefit of this and future generations. KAMUT® is a trademark of Kamut International which guarantees high quality standards that are verified by tests from every field.