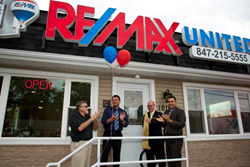 Chicago, IL (PRWEB) October 13, 2014
RE/MAX United marked the opening of its new office in Round Lake Beach, Ill., with a grand opening celebration on Sept. 25. The new office, located at 1616 N. Cedar Lake Road, is the second RE/MAX United office in the northern suburbs to serve the metropolitan Chicago real estate market.
More than 100 guests attended the private open house event, which was highlighted by a ribbon cutting ceremony that included Richard Hill, mayor of Round Lake Beach, and the trustees of the Round Lake Beach Chamber of Commerce.
"RE/MAX United has been quite active in the Round Lake area over the last seven years, and during that time we noticed a growing need for there to be a local multi-lingual real estate office. Since a number of our agents who work out of our Wheeling location live in Round Lake, it made perfect sense to open an office here. Our agents are fluent in English, Spanish and a variety of Eastern European languages," said Luigui Corral, co-broker/owner of RE/MAX United.
The new office is a 2,200-square-foot facility that incorporates a wide range of energy efficient green features, a reception area, conference room, work area for visiting agents, four private offices and 18 cubicles. Currently, seven agents are working from this office, and Corral expects that headcount to expand notably over the next 12 to 15 months.
"The timing for opening this office proved to be excellent as far as the local real estate market is concerned," said Corral. "For a few years, distressed sales dominated the Round Lake market area, but that has been changing. We're seeing many more traditional sales, which mean property values are stabilizing and should be moving toward higher ground."
RE/MAX United in Round Lake Beach can be reach at (847) 215-5555 or by visiting http://www.united-roundlake.illinoisproperty.com.
RE/MAX has been the leader in the northern Illinois real estate market since 1989. The RE/MAX Northern Illinois network, with headquarters in Elgin, Ill., consists of 2,000 sales associates and 100 individually owned and operated RE/MAX offices that provide a full range of residential and commercial brokerage services. Its mobile real estate app and http://www.illinoisproperty.com provide comprehensive information about residential and commercial property for sale in the region. The northern Illinois network is part of RE/MAX, LLC, a global real estate organization with 90,000+ sales associates in 90+ nations.