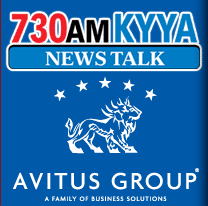 Billings, Montana (PRWEB) October 14, 2014
How will the proposed safety levy affect your community and tax dollars? Avitus Group and News Talk 730 KYYA will host a roundtable discussion live from the Avitus Group boardroom Wednesday October 15th from 6:00 a.m. to 8:00 a.m. to inform the community about the impact the vote will have on the growing communities in Yellowstone County.
Hosts Scott Fredricks of News Talk 730 KYYA and Avitus Group CFO Steve Bentley will lead guests through a discussion answering the hard hitting questions of tax payers, residents and public safety employees.
Guests include; Mayor Tom Hanel, Chief of Police Rich Saint John, Fire Chief Paul Dextras, City Administrator Tina Volek and Montana Board of Regents member Todd Buchanan.
Avitus Group handles the burdensome tasks of payroll, HR, IT, Taxes and more; giving business owners the opportunity to focus on their business.