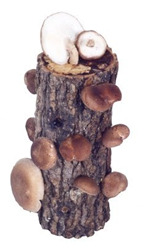 I started growing shiitakes on logs over 30 years ago, Doug said. And I'm still amazed. It's still fun. I love watching the babies peek out of the bark and bloom into beautiful mushrooms.
Perkins, OK (PRWEB) October 14, 2014
"Rain, rain, come again another day," is the refrain for mushroom lovers growing their own shiitakes on all-natural hardwood logs. Lost Creek Mushroom Farm sells mushroom grow kits, producing organic gourmet shiitakes every two months for up to four years. Normally the log kits are kept inside like houseplants. But in the spring and the fall, if they are outside in shade and rain, their natural growing spurts produce their most abundant harvests.
At Lost Creek Mushroom Farm the logs are prepared in the cold winter months. Doug Williams and his crew drill holes in oak and gum logs, inject the seed, called "spawn," and seal the holes with cheese wax. (See how they do it here.) Doug waters and takes daily care of the logs for 8-10 months until they are ready to "fruit" – pop out the world's second-most consumed mushroom, the shiitake.
With the mushroom grow kits, "Soaking the log in ice water mimics the spring and fall rainy seasons and starts the mushrooms growing," Doug explained.
Sandra and Doug tell the story of their first year with two thousand logs. It rained in October and all two thousand logs bloomed with 5-25 mushrooms each. "Hundreds of pounds and thousands of mushrooms!" Sandra said.
Health Benefits
Shiitakes are high in protein and low in fat. They contain natural compounds that can reduce inflammation, tumors, oxidative stress, and attack viruses and other fungi. They contain antioxidants, boost the immune system, regulate blood pressure and lower cholesterol.
According to "Food Facts" at Mercola.com, "It's no secret that shiitake mushrooms are one of the healthiest foods on the planet. At the same time, shiitakes enjoy gourmet status in the culinary world, which is why they're carefully produced through the labor-intensive method of forest farming. Sliced and sautéed with butter and parsley, they release a tantalizing flavor unknown to other foods."
Shiitake Mushroom Grow Kits and Gifts
Lost Creek Mushroom Farm kits make great gifts and come in several sizes and prices. Shipping is included in the cost. The unique Original Tray Kit with a 14-inch log and its own tray for soaking, fruiting and storing the log, is $49.95. The Best Buy includes two tray kits for $89.95 shipped to the same address, so people can keep one, give one as a gift, and save money. The best-selling 10-inch Single Log Kit is $29.95; the Ma and Pa Log Kit with two 10-inch logs is $49.95, and a 6-inch 'Shroomie sells for $18. Kits with two logs can produce a harvest every month by alternating the fruiting log.
Kits include the ready-to-fruit log or logs, instructions, and recipes. Log kits over 8" are fully guaranteed to grow. Six-inch 'Shroomies, "cocktail-table kits,"are not guaranteed because of shipping costs.
Janet Bratkovich's Shiitake Sampler Cookbook with 51 kitchen-tested shiitake recipes is $7.95 when shipped with the log kit, $9.95 shipped separately.
Order online at http://www.shiitakemushroomlog.com or by phone at 1-800-792-0053. Lost Creek Mushroom Log kits are available on Amazon.com at slightly higher prices.
A portion of sales are donated to Lost Creek Mushroom Farm's Mushrooms in Ghana Project. Sandra and Doug work with small-scale mushroom farmers in West Africa, most of them women, to increase production and profit. The Williams' promote education about mushrooms in general and teach shiitake mushroom farming on natural logs.