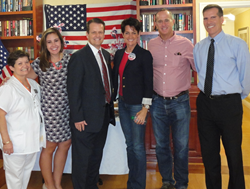 Having the Mayor & his City Council running mate visit our residents is a big honor.
Anaheim, CA (PRWEB) October 16, 2014
An Anaheim skilled nursing facility, Coventry Court Health Center, hosted an event on Wednesday, October 1st, 2014, intermingling the Anaheim Mayor, a City Council candidate, and community members, as well as facility residents and employees. With the election just around the corner, the special event gave the Mayor Tom Tait and James Vanderbilt an opportunity to meet members of the community while expressing their goals for the upcoming term. The Mayor's visit also served as a chance for resident's questions and concerns about the community to be addressed. Mayor Tom Tait offered hope to his supporters that he will continue to make sure their voices are heard as he fights to save Anaheim from the special interest spending tax dollars for inside deals.
Mayor Tom Tait encouraged attendees to re-elect him for Mayor and to help him take the focus back to our neighborhoods. "Anaheim needs new councilmembers to put the focus on our city's long term fiscal health and on strengthening our city's resources and our ability to serve the needs of our neighborhoods. James Vanderbilt has my endorsement for Anaheim City Council because as a lifelong resident and community leader, he will make our residents his top priority." said Mayor Tom Tait.
Coventry Court Administrator, Shaun Dahl said, "We support the political process as well as our community. Having the Mayor and his City Council running mate visit our residents is a big honor. It gives our residents a chance to ask questions and really get involved."
For more information about Coventry Court Health Center visit http://www.coventrycourt.org
About Coventry Court Health Center
At Coventry Court Health Center caring is the main concern. Located in Anaheim, CA, Coventry Court team members believe the most effective way to provide compassionate care is to maintain high medical integrity, build a spirit among staff and provide friendly, beautiful surroundings for patients and their visitors. A team of qualified professionals helps patients recover from surgery, injury or serious illness. They understand the importance of creating a comfortable and nurturing atmosphere, whether patients are there for short-term treatment or long-term care.