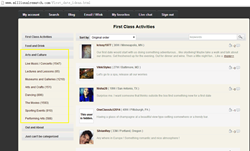 (PRWEB) October 14, 2014
Millionaire dating site MillionaireMatch.com, which is dedicated to connecting "successful, attractive, and available singles" has announced new arts-and-culture-themed millionaire first date ideas. When people plan a first date, they often want to combine having fun together with impressing the other person with what a unique, worldly, cultural person they are, not just to show off but also to see if their new potential love interest shares the same passions and hobbies that they do and if the two of them can have fun sharing those hobbies.
By offering these ideas, MillionaireMatch.com hopes that their users will be able to get off the computer and into the real world to have fun together.
The arts-and-culture-themed date ideas that MillionaireMatch.com has announced include everything from looking at art together in museums to creating art together by participating in a wine and painting night. Not all of the ideas are as highbrow as lectures or the opera—though they are included; some of them simply suggest venues to catch local music acts or take in an indie film. The suggestions range the entire spectrum of personalities, as they come from MillionaireMatch.com's 2,251,135 users. For details please visit http://www.millionairematch.com/first_date_ideas_0_15_Live_Music_Concerts_1024_by_usr_id.html and related categories from the left navigation bar.
Sammy, the leader of MillionaireMatch.com, says of the new millionaire first date ideas, "Meeting someone online puts enough pressure on people. There is no reason why our users should have the added pressure of coming up with first dates to impress the person they've waited so long to meet."
For users who are looking for other types of dates, MillionaireMatch.com has plenty of other suggestions by category. The suggestions range from adventurous dates, like skydiving, to relaxing dates, like time at the spa. With so many types of users—CEOs, lawyers, doctors, pro athletes, beauty queens, fitness models—there is a type of date to match every type of new couple.
MillionaireMatch.com, the luxury dating site, is dedicated to connecting successful, attractive, available singles. In its 14 years, it has received a number of accolades, including being voted "Best of the Web" by Forbes.com. It has been featured on CNN, ABC, and CBS, and The Wall Street Journal.