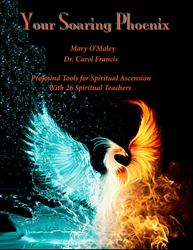 Facing the inevitability of dying can invigorate the passion to live according to contributing author Dr. Andrew Cort in newly released book Your Soaring Phoenix.
New York, New York (PRWEB) October 15, 2014
Dr. Andrew Cort viewed death as the enemy of life until his work as a Chiropractor enabled him to meet the courageous AIDS survivors who placed a premium on life because they were clear that death was inevitable. Dr. Cort's story is found in "Your Soaring Phoenix" the newest book released by Make Life Happen Publishing, Fall 2014.
"Your Soaring Phoenix" profoundly addresses perspectives on life, death, and the beyond suggesting that the power of life extends from examining the human relationship with death. "The theme of death, life, and after-life-experiences research is one of 42 amazingly moving topics addressed by the 26 authors contributing to readers' enrichment while dipping into Your Soaring Phoenix. Your Soaring Phoenix is a book not to be missed, and Dr. Andrew Cort's chapter movingly shifts readers away from fear or complacency about death into embracing the powers and heart that facing death brings," explains editor and author Dr. Carol Francis, Los Angeles Clinical Psychologist.
About Author Dr. Andrew Cort:
Andrew Cort is a Chiropractor, Attorney, High School and College Teacher, Author, Speaker, and Interfaith Minister. He owns a spiritual and healing center in Woodstock, New, INTERFAITH AWAKENING. Andrew Cort is the author of multiple books including Symbols, Meaning, and The Sacred Quest: Spiritual Awakening in Jewish, Christian, and Islamic Stories; and Love, Wisdom and God: The Longing of the Western Soul; and The Door is Open: The 7 Steps of Spiritual Awakening of Western Scripture and Mythology. For more information check-out http://www.andrewcort.com and his blog at http://www.InterfaithAwakening.com.