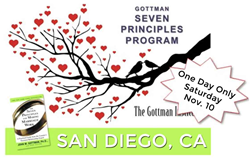 Dr. Gottman's extensive, daecades long research into the habits of happy couples. It is now being offered to the public, to help couples become happier in their relationships
San Diego, CA (PRWEB) October 28, 2014
About the Program: The Gottman Seven Principles Program for Couples is based on 35 years of scientific research by renowned relationship expert Dr. John Gottman. The Seven Principles Workshop is the result of Dr. Gottman's extensive, decades long research into the habits of happy couples. It is now being offered to the public to help couples become happier in their relationships. Dr. Gottman's research at the University of Washington indicates that these techniques are far more effective than traditional couples therapy or marriage counseling in making relationships work and his scientific research continues to set trends that the scientific, academic and clinical communities follow.
About Dr. Gottman: Dr. Gottman created the program that will be offered to couples during this workshop. He has been featured by Oprah, The New York Times, Good Morning America, CBS Morning News and many other major media outlets. He has also received numerous academic and therapeutic awards and is the author of over 190 academic articles on marriage and relationships. Dr. Gottman's research is considered the most extensive and innovative research into marriage and relationships ever conducted. His groundbreaking discoveries have reshaped the discussion on happy marriages and have helped thousands of struggling couples improve their relationships.
About the Facilitator: Ryan Moalemi was trained and certified by the Gottman institute to teach the Seven Principles program by providing extensive instruction to couples looking to enhance their relationships. Ryan graduated Summa Cum Laude from Penn State University with a bachelor's degree in psychology and has studied human relationships for over a decade. He is extremely passionate about reducing human suffering and improving happiness, compassion and love and feels that there is no place more important to practice these things than in an intimate relationship. His goal for this workshop is to give couples tools, strategies and insight to bring more love into their every day lives.