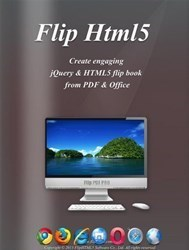 (PRWEB) October 16, 2014
FlipHTML5 has introduced a new feature to complement its flipbook software – a Bookcase to show off users' digital catalogs.
The Bookcase, which can be embedded on a users' personal website after they sign up, displays self-made catalogs in a simple, wooden setting, allowing for easy organization and a beautiful display. The Bookcase is intended to help users introduce customers to flipbook catalogs, all while still maintaining an uncomplicated format.
It is designed for users who have a large amount of catalogs or those who wish to display their catalogs more easily to customers. With efficiency in mind, the Bookcase includes an e-mail feature, where visitors can contact the user.
Like all of FlipHTML5's products, creating and embedding the Bookcase is user-friendly and multi-platform. The Bookcase is fully customizable to the account holder's taste and preference and is free when downloading the software.
The Bookcase can be embedded through three easy steps:

The user must sign in to their account.
Then, the user will visit "My Homepage", and then "Bookcase Embed", where a new window will prompt them to customize the bookcase.
Finally, the embed code will be available. After copying and pasting it into a personal website, the bookcase can be customized easily by readers.
The Bookcase will be visible on desktop, tablet and mobile devices, with the latter being available through a QR code from the bookcase owner.
"The Bookcase is part of our core values: to bring user-friendly, efficient software to our clients and customers," says Jacky Peng, customer service of FlipHTML5.
About FlipHTML5: FlipHTML5 offers a wide range of solutions for illustrated book publishers to produce digital website content, online user manuals, digital annual reports, e-magazines, PowerPoint presentations and flip photo albums. The company works diligently to provide consumers with the latest styles to showcase their products and services to the world.
Visit http://fliphtml5.com/ for more information.