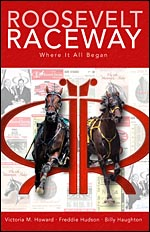 "Roosevelt Raceway: Where It All Began" is a must read for everyone!
Long Island, New York (PRWEB) October 15, 2014
Roosevelt Raceway was a landmark where presidents, celebrities and sport stars came to see some of the best racehorses in the world compete. The sold out grandstands were at times filled with more than 50,000 spectators who came to watch top drivers and horses set track and world records. At that time, harness racing was one of the fastest growing and most popular sports in the country.
"Roosevelt Raceway: Where It All Began" is two books in one. The first part is the story and history of "The Taj Mahal" of harness racing. It begins when a prominent criminal attorney named George Morton Levy had a vision of taking a gentleman's sport and turning it into a multi-million dollar business. Levy was a genius, who not only discovered night time harness racing and developed the world famous Roosevelt International Trot, but was a shrewd attorney who once represented colorful men, such as Lucky Luciano, Frank Costello and Frank Erickson.
The latter part (Book Two) consists of stories about the drivers, horses and races that made Roosevelt Raceway the creme de la creme. Also, throughout the book are 100 original photos.
"Roosevelt Raceway: Where It All Began" is a book for everyone, for it is a coffee book, history book and the true story of how one man, using gangster and political connections, developed harness racing into a first tier major league sport.
The authors are launching a nationwide book signing tour starting November 21 at the prestigious Book Revue in Huntington, New York; and on November 22 at The Breeders Crown at The Meadowlands Racetrack in New Jersey.
"Roosevelt Raceway; Where It All Began" can currently be bought on-line at http://www.rooseveltraceway.tateauthor.com and will soon be available at book retailers throughout the nation.
For book signings, interviews and inquiries, contact: Victoria Howard at mstoriamarie(at)yahoo(dot)com, Fred Hudson at fhudsonscva(at)yahoo(dot)com or Billy Haughton at lakepeeple(at)aol(dot)com.