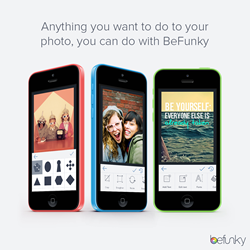 "Over 25 million users love BeFunky because it's always been the easiest, most powerful and most creative photo editing tool out there." - Tekin Tatar, CEO BeFunky
San Francisco, CA (PRWEB) October 14, 2014
Today, BeFunky announced a redesigned mobile photo editing app - the biggest update to its mobile app. The all new BeFunky is available now as a free download on Apple's App Store and via Google Play.
BeFunky's redesign features a highly intuitive, streamlined user interface bringing hundreds of new edits, effects, overlays, and tools together seamlessly in one app. This all-in-one experience delivers an easier, faster and more fun way to create beautiful and original photos.
BeFunky includes the innovative Collage Maker that works effortlessly with the photo editor allowing you to directly edit photos in your collage with a touch of a button.
"Over 25 million users love BeFunky because it's always been the easiest, most powerful and most creative photo editing tool out there," said Tekin Takar, BeFunky's CEO and Co-founder. "With this release, we've developed a stunning user experience with so many new options to choose from, you can do simply anything you want to your photo."
BeFunky also comes with numerous "goodies" or stickers that are designed in-house offering users one-of-a-kind art to enhance their photos and collages. The amazing array of overlays includes shapes and a new text feature that accesses all the fonts available on a user's device for even more customization. Instagram integration makes it as easy to share as it is to personalize a photo. The power of BeFunky works wherever you are, allowing users to have the same seamless experience across mobile devices and the web.
BeFunky plans to announce a relaunch of its web app and tablet version later this year.
About BeFunky
Founded in 2007, BeFunky pioneered the first online photo editing application from a desire to integrate art and technology. BeFunky's photo editor is designed to give users the power to make any moment magic - in an instant, and all in one application. Today, BeFunky is more powerful than ever. It is the only photo editor that works across platforms and seamlessly integrates a Collage Maker. With hundreds of new features available, anything you can imagine, BeFunky can help you create it.
BeFunky has offices in San Francisco and Portland. For more information, please visit http://www.befunky.com.