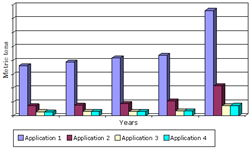 Global Market for Wood-Plastic Composites to Reach 5.6 Million Metric Tons in 2019
(PRWEB) October 14, 2014
BCC Research (http://www.bccresearch.com) reveals in its new report, WOOD-PLASTIC COMPOSITES: TECHNOLOGIES AND GLOBAL MARKETS, the global market for wood-plastic composites (WPCs), cellulosic plastics, plastic lumber and natural fiber composites is expected to reach 5.6 million metric tons in 2019, at a compound annual growth rate (CAGR) of 12.7% for the five-year period. The consumer and industrial segment is anticipated to advance with a considerable CAGR of 16.2% for the forecast period.
WPCs will benefit from new approaches, such as using weatherable capstock that improves the appearance and durability of the material. Availability of plastic recyclate may be a constraint to growth in the United States.
Applications in automotive markets will grow at a fast rate for plastics reinforced with natural fibers as automotive OEMs strive to reduce greenhouse gas emission and take advantage of the lower weight of natural fibers compared to glass fibers.
Infrastructure will also be an important and rapidly growing market for two reasons: (i) rapid acceleration of infrastructure projects, particularly in China, and (ii) the emergence of new technologies that improve the strength and other properties of wood-plastic composites.
"There is growing interest in plastic compounds made with wood and other natural fillers and reinforcements for performance and environmental reasons," says BCC Research analyst Jason Chen. "In Europe, the market emphasis is on markets such as automotive, where molded wood-plastic composites create a feeling of real wood in cars. Production capacity is growing rapidly in China, primarily targeting the export market."
WOOD-PLASTIC COMPOSITES: TECHNOLOGIES AND GLOBAL MARKETS covers the history, current status and forecast scenario for four major products: WPCs, plastic lumber, cellulosic plastics and natural fiber composites. Other areas assessed include technologies, production (e.g., compounding, injection molding, and extrusion), use of additives (colorants, lubricants, coupling agents and UV stabilizers), costs and pricing, competitive company strategies, distribution, product standards and testing, among others. Revenue forecasts are provided for the period 2014 through 2019.
Editors and reporters who wish to speak with the analyst should contact Steven Cumming at steven.cumming@bccresearch.com.
About BCC Research
BCC Research publishes market research reports that make organizations worldwide more profitable with intelligence that drives smart business decisions. These reports cover today's major industrial and technology sectors, including emerging markets. For more than 40 years, we have helped customers identify new market opportunities with accurate and reliable data and insight, including market sizing, forecasting, industry overviews, and identification of significant trends and key competitors. We partner with analysts who are experts in specific areas of industry and technology, providing unbiased measurements and assessments of global markets. Our clients include the top companies in industries around the world as well as universities, business schools, start-ups, consulting firms and investment companies. BCC Research is a unit of Eli Research LLC. Visit our website at http://www.bccresearch.com. Contact us: (+1) 781-489-7301 (U.S. Eastern Time), or email information@bccresearch.com.
Data and analysis extracted from this press release must be accompanied by a statement identifying BCC Research LLC, 49-2 Walnut Park, Wellesley, MA 02481, Telephone: (+1) 781-489-7301; Email: editor@bccresearch.com as the source and publisher. Thank you.