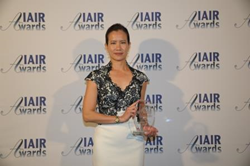 For more than 50 years, Glion has been at the forefront of hospitality management education worldwide. This is an important international recognition for our continuous academic innovation and leadership in the industry
(PRWEB) October 14, 2014
Glion Institute of Higher Education, one of the world's top three institutes of higher education for an international career in hospitality management (TNS Global Survey, 2013,) received the 2014 IAIR Award in the category of Best Company for Leadership in Higher Education, Europe, during a ceremony at the Palazzo Mezzanotte in Milan, Italy, on Oct. 10.
"It is truly an honor to receive this award," said Judy Hou, CEO of Glion Institute of Higher Education. "For more than 50 years, Glion has been at the forefront of hospitality management education worldwide. This is an important international recognition for our continuous academic innovation and leadership in the industry."
The IAIR Awards event recognized a number of companies from all over the world. Award recipients were recommended for business excellence by the IAIR readers' votes, including business and financial journalists in 120 countries, followed by the selection of the editorial staff. Previous IAIR recipients include internationally renowned companies such as Novartis, IBM, Apple, Microsoft, Samsung and Bank of China.
"This award comes at an exciting time for Glion. We opened a new branch campus in London at the end of 2012 and will be announcing a new and promising program later next year," said Ms. Hou.
About Glion Institute of Higher Education
Glion Institute of Higher Education is a private Swiss institute that offers undergraduate, graduate and post-graduate programs. Glion is accredited at the university level by the New England Association of Schools and Colleges, Inc. (http://www.neasc.org) through its Commission on Institutions of Higher Education, and offers programs in the fields of hospitality, tourism, events, sports and entertainment management. The campus-based student body comprises more than 1,600 students representing more than 90 nationalities. There are 85 faculty members including full- and part-time equivalent lecturers as well as visiting lecturers. For more information, please visit http://www.glion.edu. Glion is part of Laureate Hospitality Education, a leading hospitality management education group (http://www.laureatehospitality.com).
About IAIR Awards
The IAIR Awards is focused on Global Economy and Sustainability and is one of the world's leading ranking for excellences in various categories such as Green Economy, Private Equity, Asset Management, Alternative Investments, Business Opportunities, Global Corporate Excellences, and Family Businesses. The selection committee is made up of the scientific committee of IAIR and IAIREVIEW.org members along with a team of dedicated legal, economic and financial journalists who are located around the globe in more than 120 countries. For more information, please visit http://www.iairawards.com.
PRESS CONTACT
Alexia Robinet
Senior International Public Relations Manager
Alexia.robinet@laureate.ch