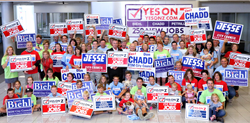 Measure Z is simple. It rezones the old Nissan dealership and allows for productive uses.
Rancho Santa Margarita, CA (PRWEB) October 16, 2014
After much groundwork, signature gathering, and fighting for the right to let the voices of RSM be heard, Measure Z has been put on the ballot for the November 2014 elections, waiting for the residents of RSM to determine the fate of the former Nissan dealership.
What is Measure Z?
'Z' is a ballot initiative requesting that the RSM city government rezone the old Nissan dealership from purely 'Automotive' to 'General Commercial' to allow Theory R Properties to develop it into a thriving city destination spot.
The property has been vacant since 2008. Joe Daichendt of Theory R purchased it in 2012, intent on finding a buyer from the auto manufacturer industry; two and a half years later he could not find an interested manufacturer willing to establish a car dealership in RSM. If Measure Z passes, seven years and 5000 signatures later, the vacant property will have a second chance to reawaken and be a vibrant city destination.
Daichendt says, "No dealers will come to RSM, so we have had to reconsider our original plan. We are tired of the waste of space and waste of potential revenue for residents, the city, and the county. We just want to build something that residents can use. In the turbulence of an ever changing economy, we know that what people really need are jobs. And by rezoning the lot, we will be able to create 250 new jobs for residents of RSM. But that is only if Measure Z passes."
A 'Yes on Z' vote means:

Stimulating the economy
Creating 250 new jobs
Reducing government waste
Bringing additional business into the city
Establishing retail and grocery stores that residents actually want
Broadening the future use of the property to include auto and commercial use
Boosting business to the auto zone by attracting more people
Restore the city zoning scheme as contemplated by the founders in the city's original master plan
With support from local businesses owners, neighboring dealerships inside and outside of RSM, and residents, Measure Z has a chance to make a lasting and needed change, despite the best efforts of the cities governance to prevent it from passing.
Yes on Z is on the ballot for the November election. It is dedicated to transforming Rancho Santa Margarita into a more vibrant city and community by creating jobs and increasing revenue to prevent tax increases and taxpayer waste. For more information, please visit YesOnZ.com