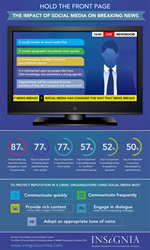 Social media has revolutionised the way news is sourced and broken. This has enormous ramifications for those caught in the media spotlight when bad news breaks.
(PRWEB UK) 15 October 2014
A new report released today by reputation management consultancy, Insignia Communications, calls on businesses to urgently re-evaluate their crisis management training and planning to address the enormous impact of social media on breaking news.
The report, "The effect of social media on breaking news", canvassed the views of a panel of thirty international journalists and found that:

90% of journalists think that increased 'citizen journalism' via social media has not reduced the importance of official media outlets
But just under 90% of them believe social media has changed the role of journalists when it comes to breaking news stories
The report reveals how social media has changed the way journalists approach newsgathering and provides them with direct access to eyewitnesses who can tell their own stories and opinions on the situation.
Other findings from the report reinforce this shift in journalism:
75% of those surveyed said they viewed social media as either essential or important in bringing potential stories to their attention earlier and getting news out more quickly
Half of respondents said they use social media as a critical information source to obtain eyewitness accounts, unofficial information, potential interviewees, video footage and images.
Insignia Communications managing director Jonathan Hemus said: "The report shows the impact of social media on traditional media channels: it has revolutionised the way news is sourced and broken. This has enormous ramifications for businesses caught in the media spotlight when bad news breaks: they must act now to ensure that their crisis management training and plans match this new reality."
Respondents to the report suggested five criteria for company's successful use of social media in a crisis:

Communicate quickly (ideally within 30 minutes of the crisis breaking)
Communicate frequently
Provide rich content including video and images
Engage in dialogue rather than broadcasting messages
Adopt an appropriate tone of voice for social media
"It is not a question of whether businesses should be engaging with social media, but how. Thorough crisis management planning, capability development and testing through social media crisis simulations are all important parts of this process", continued Hemus.
The full report can be downloaded here.
For further information or request for an interview with Jonathan Hemus, please contact:
Catherine Barker, Insignia Communications
catherinebarker(at)insigniacomms(dot)com
+44 (0)7462 946012
Notes to editors
The survey canvassed the views of thirty national and international journalists, reporters and correspondents who break news every day on TV, radio, in print and online.
For a copy of the full report The Effect of Social Media on Breaking News: A Media Perspective please email catherinebarker(at)insigniacomms(dot)com
About Jonathan Hemus
Jonathan Hemus is the managing director of Insignia Communications, a UK-based reputation management consultancy specialising in crisis management. He is a sought after trainer, coach and speaker on crisis and reputation management and has spoken on reputation management, crisis communication, PR and business continuity at national and international conferences and events, most recently the International Crisis and Risk Communication Conference in Florida. He is a guest member of the Henley Business School faculty and a lecturer at Manchester Metropolitan University. Follow Jonathan on Twitter - @jhemusinsignia - or contact him directly by email: jonathanhemus(at)insigniacomms(dot)com
About Insignia Communications
Insignia provides crisis management planning, training, testing and consultancy services to help organisations protect their reputation in the event of a crisis. The company gives executives and officials from large businesses and other organisations around the world peace of mind based on developing the processes, skills and confidence to make good decisions should a crisis occur.
Insignia develops crisis management plans, facilitates crisis management training workshops, trains media spokespeople, runs desktop crisis exercises, creates fully inter-active crisis simulations and offers an online tool to give experience of managing a social media crisis.
Insignia has experience in many sectors including automotive, business schools; consumer brands, financial services, government, healthcare, management consultancy, mining, oil and gas, retail, technology, telecoms, sport, tourism, transport, travel and many more.