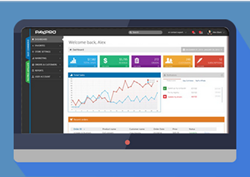 By leveraging user behavioral data and extensive A/B testing, we are very confident that the new design and content will improve visitor to purchase conversion rates for all of our partners, who sell their products using our eCommerce platform
Toronto, Ontario, Canada (PRWEB) October 30, 2014
PayPro Global Inc., the leading eCommerce platform to sell software, SaaS and cloud products, announced today the release of the new and improved company website at http://www.payproglobal.com to provide better usability and service for digital vendors, as well as software shoppers.
The revamped website concludes the re-branding process of the company, which was started last year. The re-branding process goes further than the website itself, the company released a completely new Media Kit, which contains an entirely redesigned database of marketing materials used by PayPro Global's eCommerce partners in their stores. The new Media Kit is available for free download at http://blog.payproglobal.com/post/2014/10/28/Time-of-Renewal-Complete-Website-Redesign
The new portal is built on Dynamic HTML, which delivers excellent results in responsiveness, loading times and offers the possibility to provide interactive content. The interactive content can then serve as an interface for improved user experience and usability. Moreover, the responsive design provides excellent user experience for mobile users, which facilitates mobile commerce.
A new support center integrated into the website, provides a seamless self-service portal for shoppers on any device in managing their accounts, product subscriptions and requesting support. The completely overhauled support center will improve even further the communication between the company and its clients.
Another notable addition of the new website is the Knowledge Center that features exclusive eCommerce content, based on data gathered in over 8 years of PayPro's experience in selling software, SaaS and cloud products online. Software professionals now have access to a rich resource library of the latest eCommerce insights in forms of blog articles, case studies, white papers and company news.
"Our new website will further increase shoppers' confidence in buying software, SaaS and cloud products through PayPro EasyCommerce system. The guidance is clearer and more user-friendly. By leveraging user behavioral data and extensive A/B testing, we are very confident that the new design and content will improve visitor to purchase conversion rates for all of our partners, who sell their products using our eCommerce platform to sell software, SaaS and cloud products" said Meir Amzallag, CEO, PayPro Global Inc.
About PayPro Global
Founded in 2006, PayPro Global Inc. develops and hosts a flexible eCommerce platform to sell software, SaaS and cloud services. PayPro Global's mission is to deliver innovative solutions that help company's partners optimize conversion, increase shopping cart value and improve sales. The platform supports global payments, regional currencies, local payment methods and multilingual checkout. The company also offers software enterprises state-of-the-art licensing, activation and anti-piracy protection for their applications.
PayPro Global Inc is headquartered in Toronto, Canada, with development centers in Ramat Gan, Israel and regional offices in New York, USA, and London, UK.
Web site: http://www.payproglobal.com
Blog: http://blog.payproglobal.com
Twitter: @paypro_global