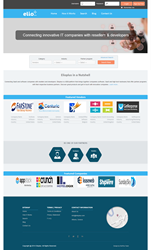 Elioplus plans to become a destination website for companies that actively looking for business partners within the IT industry. It connects software and SaaS companies that offer partner programs with resellers, VARs, distributors etc.
(PRWEB) October 16, 2014
Elioplus is a B2B marketplace that connects vendors of Software, SaaS and high tech Hardware products with their channel partners like resellers, VARs, distributors and developers. The focus is to create a platform where individuals and companies can discover great partnership opportunities at ease and efficiently. Vendors and resellers can search between different industries, partner programs, location and other options to find the right business partner.
Elioplus started as a side project a couple of years ago, when the founders were browsing through thousands of products and services from established companies and innovative startups to add to their internet marketing agency portfolio. But the whole process was tedious and ineffective.
The long term vision is to develop a platform where resellers can find and compare different vendors and product. On the other hand, Elioplus enables vendors to grow their domestic channel network and enter new international markets. The company is planning to roll out new features that will help vendors to attract high quality partner leads and close the loop of missing opportunities.
Finally, Elioplus is especially committed to helping startups grow their indirect channel. Startups with software and SaaS products that have a new partner program can reach resellers and developers from international markets and start recruiting their first business partners. Elioplus plans to empower startups with the correct strategy and tools in order to create more sophisticated partner programs and provide better support.