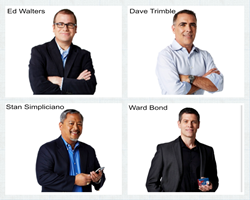 Westport, CT (PRWEB) October 14, 2014
Defense Mobile Corporation has hired a highly qualified management team to lead the company through its launch period and to continue to build a strong business with the mission of connecting and improving the lives of veterans, military service members and their families. Among them are Ed Walters, Dave Trimble, Stan Simpliciano and Ward Bond.
Ed Walters
Ed Walters has been hired as head of marketing, responsible for architecting, implementing, and optimizing Defense Mobile's marketing strategy.
Prior to joining Defense Mobile, Ed served as the chief marketing officer of the U.S. Army, the vice president of marketing and communications at ACT, a brand manager at Kraft Foods, and a strategy/management consultant at Booz Allen.
Ed is a former military intelligence officer who is Ranger, Airborne and Pathfinder qualified. He received the Secretary of the Army Public Service Medal for his exceptional leadership and service that made a significant contribution to the Army's missions.
Ed graduated from the United States Military Academy at West Point and earned an MBA from Northwestern University and an MPA from Harvard University.
Dave Trimble
Dave Trimble brings over 20 years of experience in the communications and payment industries to the position of head of member experience, where he will ensure the delivery of an outstanding experience for all of Defense Mobile's members.
Before Defense Mobile, Dave worked with American Express, where he held the position of vice president and general manager of customer engagement for the firm's Online and Mobile Division. Prior to that he held multiple roles in Sprint's Pre-paid Division including vice president, Virgin Mobile business line and vice president of customer service. In his time with Sprint and Virgin Mobile, Dave led teams that won three J.D. Power Awards for delivering an outstanding customer experience.
Dave graduated from Lehigh University with a degree in Marketing and earned an MBA from Pennsylvania State University.
Stan Simpliciano
Stan Simpliciano is the head of operations, responsible for managing Defense Mobile's wireless operations and for ensuring that the company delivers on its commitment to provide superior mobile services.
Prior to joining the Defense Mobile team, Stan was general manager of the MVNO, M2M, and International & Domestic Roaming businesses at T-Mobile. He also served as head of mobile services for Solavei, a start-up MVNO that reached 80,000 subscribers in the first 3 months of service and as COO/CTO of GSM Nation, an eComm provider of unlocked GSM smartphones. Stan was also a strategy/management consultant at Arthur D. Little and Accenture.
Stan is a former Naval Aviator who flew helicopters and fixed-wing aircraft in support of operations in the Caribbean, Pacific Rim, Indian Ocean, and Middle East.
Stan graduated from the United States Naval Academy at Annapolis with a degree in Computer Science and earned an MBA and Certificate in the Management of Technology from the University of California, Berkeley.
Ward Bond
Ward Bond has been hired as the head of value added services, responsible for the development and management of Defense Mobile's value added services, including miliCASH, miliSOURCE and miliMAIL.
Prior to joining Defense Mobile, Ward was the global head of multimedia apps at BlackBerry. Previously, he was responsible for various value-added services at T-Mobile and AT&T Wireless. He also led partner programs for Windows tablets and innovative PCs at Microsoft. As an entrepreneur, Ward was the co-founder and president of PELE Enterprises, LLC, a manufacturer of audio products and accessories for Macs, PCs, and video game consoles. He also co-founded Step-Lively Software, which created software development tools. Ward spent time in marketing and analysis at CapitalOne where he was part of the emerging markets launch team.
Ward is a former Army Corps of Engineers officer and a graduate of the U.S. Military Academy at West Point. He has an MBA from the University of San Diego.
About Defense Mobile
Defense Mobile provides mobile services, smartphones and apps to improve the lives of veterans, military service members and their families. Defense Mobile is a new nationwide 4G mobile service supported by veterans and designed for those who have served. The company offers the most popular smartphones, no annual contract plans, military-and-veteran only cash back rewards and applications that help veterans more easily manage the benefits they have earned. Defense Mobile has secured agreements to run on the largest mobile network operators, including AT&T and Sprint, so that veterans and military families receive superior coverage.
After validation of military service during purchase or activation, members receive both mobile service and value-added applications delivered directly to their mobile devices including: miliCASH, miliSOURCE, and miliMAIL. miliCASH is a mobile banking app with a pre-approved prepaid MasterCard® that delivers cash back rewards at participating merchants nationwide. miliSOURCE is an app that includes information about veterans' benefits available from the VA, state veterans' departments and veterans' service organization to help our members take advantage of all the benefits they have earned. Members also receive miliMAIL, a free email service that provides transitioning military personnel and Defense Mobile members with an email account that proudly confirms their affiliation to the branch of service they served.
You can learn more about Defense Mobile at defensemobile.com or the service brands at ARMYmobile.com, NAVYmobile.com, AIRFORCEmobile.com, MARINESmobile.com and COASTGUARDmobile.com.
News Media Contact:
Defense Mobile Corp, Ed Walters, +1-888-370-8747 Ext 1028, ewalters(at)defensemobile(dot)net