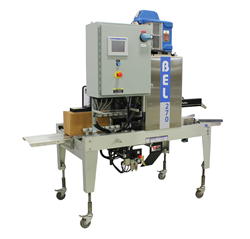 The BEL 270 is ideal for a wide range of customers who have limited floor space and technical staff or different case sizes and pack configurations. -- Sander Smith, Wexxar/BEL Product Manager
Richmond, BC (PRWEB) October 14, 2014
Wexxar/BEL, powered by Pro Mach, is featuring its enhanced BEL 270 corrosion resistant fully automatic hot melt glue case sealer at Pack Expo International, November 2-5, Booth N-5331.
The compact BEL 270, an industry leading hot melt glue case sealer for more than a decade, now includes two optional control packages, including a full HMI touchscreen with multiple glue and case settings. Additional enhancements include operator friendly features, such as color-coded changeover, handy on-machine instructions, and subtle performance enhancements. Case size changes can be completed from either side of the machine in less than one minute.
The BEL 270 is the industry's smallest footprint hot melt glue case sealer and operates at speeds up to 25 cases per minute. It is fully automatic and can be run without an operator or safely operated in a hand pack environment thanks to innovative and ultra-safe Snap Folder technology exclusive to Wexxar/BEL.
"The BEL 270 is ideal for a wide range of customers who have limited floor space and technical staff or different case sizes and pack configurations," said Sander Smith, Wexxar/BEL Product Manager. "The BEL 270 offers real value to customers who have low to moderate volumes and need to increase production or enhance their packing options, such as craft breweries, wineries, food processing and other consumer goods companies. Wexxar/BEL continues to offer the industry's most complete and innovative family of case forming and case sealing solutions, whether customers are hand packing or operating fully automated packaging lines."
About Wexxar/BEL and Pro Mach
Wexxar/BEL, powered by Pro Mach, is a leading manufacturer of high quality systems for case forming and sealing for the most demanding packaging operations. Wexxar and BEL products yield the lowest cost of ownership through greater dependability, higher productivity, maximum throughput and a high standard of safety. Wexxar/BEL is headquartered in Richmond, British Columbia, Canada.
Pro Mach is a leading provider of integrated packaging and processing products and solutions for food, beverage, consumer goods, pharmaceutical, and other diverse companies. Through our brands, Pro Mach provides product packaging and processing equipment, PMMI certified training, installation, parts, and service in Bottling & Capping, Primary Packaging, Flexible Packaging, Material Handling, Identification & Tracking, and End of Line Packaging.
Pro Mach has a diverse customer base, from Fortune 500 companies to smaller, privately-held businesses worldwide, which depend on reliable, flexible, technologically advanced equipment and integrated solution sets. Pro Mach is headquartered near Cincinnati, Ohio with manufacturing facilities and offices throughout the United States, Canada, and Europe.
For more information about Wexxar Packaging and Pro Mach visit their websites at http://www.Wexxar.com and http://www.ProMachInc.com.