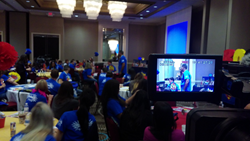 The day was electrifying, emotional, and truly-energizing!
houston, tx (PRWEB) October 15, 2014
Discover Leadership Training was thrilled to unveil their keynote speaker for Shell Federal Credit Union's 3rd Annual Training Day. The speaker was none other than Discover Leadership Training President, Mike Jones. As the President of Discover Leadership Training, Mike Jones has devoted his life to helping people in the realm of outcome-focused and benefit-driven choices. He and the whole Discover Leadership Training organization has unparalleled expertise when it comes to bringing positive influence to companies and organizations looking to have tangible growth.
The Annual Training Day featured a packed agenda throughout the day. Adopting a conference style format, the Annual Training Day highlighted a wide variety of sessions, topics, and classes for the Shell Federal Credit Union employees to partake in. "The day was electrifying, emotional, and truly-energizing!" Says Mike Jones, "There were around 225 employees this year and I was thrilled that Shell Federal Credit Union asked me to speak at the event."
In keeping with Shell Federal Credit Union's ideals and business outcomes, the theme for the Annual Training Day was, "Superheroes." Jose Rodriguez, CEO of Shell Federal Credit Union, says, "Today we are practicing like we play every day, having the courage to get off the sidelines and into the game of life. Knowing that it is not the score on the scoreboard at the end of the day but how we played the game! Being Game Changers with every relationship, changing lives one member and one employee at a time."
The Annual Training Day took place at the Double Tree Hotel by Hilton near Hobby Airport in Houston, Texas. More details can be found at: http://www.discoverleadership.com.
About Mike Jones:
Mike Jones realized something early in life: he didn't think like other people. He had radical ideas about positive outcomes and personal growth and becoming one of the 3% who really change things. After completing the Continental Airlines Pilot Development Program Mike became a helicopter pilot for the Houston Police Department. While at the HPD Helicopter Division Mike created a youth program called Soul Patrol (click here for a video). This program taught teens the value of transforming negatives into positives. Soul Patrol was so successful it was featured on NBC Nightly News, Good Morning America and Oprah. The program was also endorsed by Presidents George H. W. Bush and Bill Clinton.
About Discover Leadership Training:
Discover Leadership Training provides transformational experiences and tools that produce a sustainable winning culture. Discover Leadership Training boldly provides the most impactive, sustainable, and challenging leadership development solutions for the world. We enthusiastically inspire each member of the team to create a better version of their self and accept personal responsibility for their team's success.