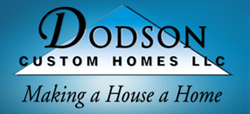 The fact that we moved up a spot on the Metro 50 rankings says a lot about our company.
Oklahoma City, OK (PRWEB) October 14, 2014
On Monday, Sept. 22, Dodson Custom Homes was recognized as one of Oklahoma City's top private companies at the Metro 50 Awards ceremony.
Dodson Custom Homes, which recently celebrated its 10th anniversary, jumped up a spot in the rankings from last year to earn the 37th place on the list.
"The Metro 50 Awards Banquet is one of Greater Oklahoma City's most prestigious events," explains owner Aaron Dodson. "Metro 50 companies demonstrate positive growth in revenues; growth in the number of employees; creativity/entrepreneurship; and business development through the expansion of facilities, customer base or markets. Qualified companies are required to have revenues of at least $1 million for the previous year."
Dodson says Dodson Custom Homes has seen such success because of its continued efforts to provide the highest-quality, most cost-efficient custom luxury homes to families in the Oklahoma City area.
"We have award-winning communities that we continue to build and develop," Dodson says. "It is important to us and our customers that they are provided with pre-built, move-in ready, brand new homes. This prevents the hassle of having to wait for a home to be built. We've got plenty of homes that are newly built and ready for a good owner."
In the future, Dodson Custom Homes will keep striving to establish a tradition of constructing the best homes for Oklahoma City residents, according to Dodson.
"The fact that we moved up a spot on the Metro 50 rankings says a lot about our company," says Dodson. "Everyone at the company is extremely proud of this recognition of our efforts, and we hope to keep up this tradition of excellence in the work we do for our customers."
About Dodson Custom Homes
Dodson Custom Homes builds high performance homes in communities throughout Oklahoma. An Energy Star Certified custom home builder, they have a commitment to quality and help homeowners construct their new dream home. To find out more, visit dodsoncustomhomes.com.