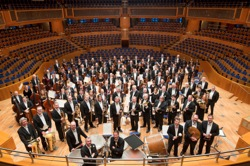 An entire week filled with high-caliber performances
Düsseldorf, Germany (PRWEB) October 14, 2014
The Düsseldorf Symphonic Orchestra held its first public concert on October 27, 1865 – making it one of Germany's oldest city orchestras. A spectacular anniversary concert is how the orchestra will celebrate its 150 year history. The concert, titled "Wir feiern!" (We celebrate!), will reunite the orchestra with three of its former managing music directors: John Fiore, Bernhard Klee and Salvador Mas Conde. They, along with composers Felix Mendelssohn-Bartholdy and Robert Schumann, are responsible for the orchestra's international renown. The anniversary concert includes pieces by Strauss, Ravel, and Grieg.
The entire week will be filled with high-caliber performances, including: Chamber Music with Isabelle van Keulen on October 23; the "Sternzeichen" (Zodiac Signs) on October 24, 26, and 27; and a charity concert benefitting non-profit "action medeor" on October 30, hosted by German TV personality Anke Engelke, will conclude the anniversary week.
All performances will take place at Düsseldorf's Tonhalle – the orchestra's home and one of Germany's most interesting and beautiful performance venues. Located right on the Rhine River by the popular Rhine River Promenade, Tonhalle's dome-shaped roof can be seen from far away. The building used to be one of the world's biggest planetariums, and today houses the stars of the music universe with about 400 performances each year, especially classical, jazz and soul, and even comedy and cabaret. Its round shape is an unusual set up for audience and orchestra, and the building's transformation from planetarium to concert hall is considered a masterpiece in both architecture and acoustics.
For more information, please visit http://www.tonhalle.de.
Düsseldorf's tourism office is offering hotel and city specials for many of the city's art and music events throughout 2014, including the symphonic orchestra's anniversary concert. The package, called "Düsseldorf à la Card," can be booked right from the tourism office's website at https://www.duesseldorf-tourismus.de/en/hotel-packages/duesseldorf-a-la-card/. Prices start at €49 per night per person based on double-occupancy for a 2-3-star hotel in the city center and at €95 per person for a 4-star hotel. The package includes breakfast, one DüsseldorfCard (free public transportation within city limits plus 30 free or reduced admissions to city attractions), and a city information package. Please check the website for current information.
For more information about the destination Düsseldorf, please visit: http://www.visitduesseldorf.de.
# # #
Düsseldorf Marketing & Tourism GmbH is the visitors and convention bureau of the city of Düsseldorf. Its responsibilities include tourism and city marketing, as well as conference and meeting marketing, hotel reservation services, fairs and convention services, city event ticket sales and advance ticket reservations. For more information, visit http://www.visitduesseldorf.de.
Düsseldorf Airport, Germany's Next Generation HubTM, offers several non-stop flights from US & Canadian cities (Atlanta, Chicago, Ft. Myers, Los Angeles, Miami, New York, Newark, Toronto), as well as convenient connections to many European cities. For more information about the airport, visit http://www.dus.com.