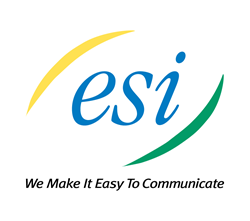 We are thrilled to be recognized by TMC for our dedication to providing an easy-to-use and cost effective communications solution that benefits both the IT reseller and end user.
Plano, Texas (PRWEB) October 14, 2014
Estech Systems, Inc. (ESI), the innovative provider of high-performance business telephone systems and cloud services, announced today that its Session Initiation Protocol (SIP) trunking services received a 2014 Unified Communications Excellence Award presented by INTERNET TELEPHONY magazine.
"The benefits of SIP trunking are unparalleled, and trunking is the perfect way for companies to ease their way into the cloud," said George Platt, ESI's chief executive officer. "We are thrilled to be recognized by TMC for our dedication to providing an easy-to-use and cost effective communications solution that benefits both the IT reseller and end user."
ESI's SIP trunking converges existing telephone infrastructure onto a customer's data network for high-quality voice communications. By combining voice and data, customers can reduce monthly expenses by up to 50% and get rid of legacy analog lines. In addition to its cost savings, SIP trunking maintains redundancy to safeguard against data loss, and ensures users have limited interruption in services. With SIP trunking, scalability is only limited by bandwidth, and additional phone lines are just a few clicks away. Using this simple, cost effective tool is also an easy, pain free way for businesses to start migrating to the cloud.
With a subscription-based pricing model, capital expenses become manageable operating expenses. Combined with the benefits of bundled long-distance minutes, businesses are able to experience a predictable monthly bill. ESI's solution is perfect for businesses trying to maximize their budget, simplify communications management, and deliver a reliable network with built-in redundancy.
The ESI network supporting SIP Trunking was built with disaster recovery in mind, and every site has at least one layer of redundancy so there is no single point of failure. If one switch fails, another is there to carry the load. The network is also geo-redundant, and can failover to another location altogether.
ESI also designed the client installation process to minimize complications. ESI manages SIP Trunk deployments like Tier 1 telecom providers, with an installation services procedure included as part of the turn-up. During the service turn-up, an ESI Implementation Specialist, in conjunction with the reseller's technician, walks through a thorough set of processes that steps through configuring, testing, and validating the implementation with the reseller. Not only does that reduce the implementation time, but also increases the customer satisfaction by a large margin.
Since 1987, ESI has been the industry's most integrated and complete end-to-end communications solution for small to medium business. In addition to providing SIP trunking services and manufacturing phones to ensure system-wide cohesiveness, ESI offers a suite of solutions including Cloud PBX, audio conferencing, CloudFax, and mobility applications such as Ditto and Abillity, a simple billing application that classifies the billable status of each phone call in seconds.
Results will be published in INTERNET TELEPHONY magazine.
About TMC
TMC is a global, integrated media company that supports clients' goals by building communities in print, online, and face to face. TMC publishes multiple magazines including Cloud Computing, M2M Evolution, Customer, and Internet Telephony. TMCnet is the leading source of news and articles for the communications and technology industries, and is read by as many as 1.5 million unique visitors monthly. TMC produces a variety of trade events, including ITEXPO, the world's leading business technology event, as well as industry events: Asterisk World; AstriCon; ChannelVision (CVx) Expo; Customer Experience (CX) Hot Trends Symposium; DevCon5 - HTML5 & Mobile App Developer Conference; LatinComm Conference and Expo; M2M Evolution Conference & Expo; SmartVoice Conference; Software Telco Congress; Super Wi-Fi Summit - The Global Spectrum Sharing and TV White Space Event; SIP Trunking, Unified Communications & WebRTC Seminars; Wearable Tech Conference & Expo III; Fitness and Sports Wearable Technology (FAST) Expo II, WebRTC Conference & Expo IV; and more. Visit TMC Events for additional information.
About ESI
Estech Systems, Inc. (ESI) delivers high-performance phone systems and cloud services designed for businesses and organizations. A premier provider of cloud- and premise-based unified communications solutions, ESI offers uniquely innovative and integrated systems that enable its channel partners to deliver differentiated, intuitive and affordable VoIP communications. Founded in 1987, ESI has sold more than 300,000 business communications systems through hundreds of certified resellers. ESI is a privately held corporation with headquarters in Plano, Texas. For more information about ESI and its products, visit http://www.esi-estech.com.