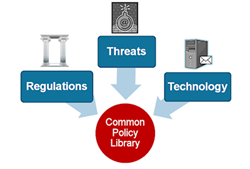 Information Security Policies are the foundation for successful IT security governance"
Houston, Texas (PRWEB) October 20, 2014
Information Shield, the leading provider of pre-written Information Security Policies, today announced that it has entered into a strategic partnership with TraceSecurity, a pioneer in cloud-based information security and compliance management solutions. As part of the agreement, Information Shield's Common Policy Library (CPL) will be integrated within TraceCSO – giving users the ability to quickly develop, manage and enforce information security policies across the enterprise.
"Information security policies provide the foundation for successful IT security governance," said David Lineman, president of Information Shield. "This integration enhances TraceCSO's policy management offering by providing customers instant access to a library of best-practices that have proven effective in over 11,000 organizations."
The CPL is comprehensive library of 40+ sample security policy documents that cover over 200 security topics. The CPL enables organizations to quickly develop security policies to address major frameworks including ISO 27002, PCI-DSS, GLBA, NIST and HIPAA. TraceCSO users can leverage the CPL to quickly build a library of best practice information security policies, customize them to their organization's unique needs, and eliminate the research time that is typically required when writing policies from scratch. The CPL also provides security policy support for key areas of TraceCSO including risk management, audit, compliance assessment, incident management, vulnerability scanning and vendor management.
"Seamless integration of the CPL into TraceCSO allows the TraceCSO customer base to expedite their policy development with access to a set of always-current best practice policies," said Peter Stewart, president and CEO of TraceSecurity. "The Information Shield integration exemplifies the value TraceSecurity places on strategic partnerships. We want the best for our customers and strive to create partnerships that aim to deliver simplified IT governance, risk and compliance (GRC) solutions to the market."
About Information Shield
Information Shield provides time-saving products and services to help build, update and maintain information security policies. Information Shield's Common Policy Library (CPL) contains over 2000 pre-written information security policies covering over all aspects of information security including: Access Control, Authentication, Physical Security, Personnel Security, Network Security, Disaster Recovery, Incident Response and many others. Based in Houston, Texas, Information Shield has over 10,000 satisfied customers in 60 countries. For more information, visit http://www.informationshield.com, email sales(at)informationshield(dot)com or call 1.888.641.0500.
About TraceSecurity
TraceSecurity, is a leading pioneer in cloud-based security solutions, provides IT governance, risk and compliance (GRC) management solutions. The company's cloud-based products and services help organizations achieve, maintain and demonstrate security compliance while significantly improving their security posture. With more than 1,700 customers, TraceSecurity supports the security and risk management efforts of all types of organizations of any size, industry or security skill set. Founded in 2004, the company has executive offices in Silicon Valley and offices in Baton Rouge, La.