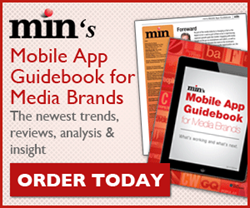 New York, NY (PRWEB) October 14, 2014
min's newest, must-read Mobile App Guidebook for Media Brands features 120 articles explaining app developments and trends over the past year as well as best practices from leaders across the mobile market. min has worked hard to compile contributor insight from the best thinkers and writers in the industry including executives from Vibrant Media, Online Publishers Association, Mag+, ShopAdvisor, IDG Communications Worldwide, Audited Media, Aquafades Digital Publisher, Accord Media, Bloom Group LLC and more. min Digital Media Editor Steve Smith shares a multitude of graded app reviews for the latest and hottest apps for both consumer and b2b media brands.
The Mobile App Guidebook for Media Brands is available at http://www.minonline.com/minpress/55.html.
Chapters Include:
Mobile Strategies, Trends & The Ecosystem
Mobile App Reviews & Analysis
Media Insiders' Insights
No part of the media industry is changing as fast as the digital sector is and no part of that sector is experiencing explosive growth quite like mobile. Engaging with media brands on the go via smartphones and tablets, as well as through apps, has become the norm in the recent past, which means that as enormous as the opportuniteies are, the steeper the learning curve becomes. As media brands have made heavy investments in mobile, min has been there, chronicling every initiative and reporting on the results. No other source has been as deeply involved in tracking activities and progress in the mobile space. min's Mobile App Guidebook for Media Brands is your unduplicated and essential source of perspective.
To order the digital version of min's Mobile App Guidebook for Media Brands, visit http://www.minonline.com/minpress/55.html.
Contact min's Marly Zimmerman at mzimmerman(at)accessintel(dot)com with any questions regarding this guidebook.
The Mobile App Guidebook for Media Brands is brought to you by min, the industry's trusted source on the consumer and b2b magazine business, reaching thousands of media executives through print, online and in-person events. For more than 60 years, min has been serving the magazine and media community with unparalleled coverage of this ever-changing industry. min also produces the industry's most timely advertising tracking via our Boxscores. We cover weekly and monthly magazine ad pages as well as a range of other metrics that track advertising success in print and digital formats. For more information, visit minonline.com.