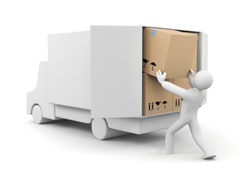 Atlanta, GA (PRWEB) October 15, 2014
AQuickDelivery, a recognized leader for same-day delivery, messenger and transportation services announces same-day straight truck services. The same-day service is created in efforts to market its line of same-day courier products and meet customer demand for same-day delivery for volume or oversize freight. The Atlanta courier pursues to be the best choice in same-day delivery courier logistics solutions throughout the Atlanta and Metro-Atlanta area.
AQuickDelivery straight trucks can pick-up and deliver palletized freight the same-day. The trucks have a capacity of 12 pallets and can carry a maximum weight of 9,500lbs per shipment. The first two pallets are free, after which, there is an $10 fee for every additional pallet. Straight truck service can be provided the same day, however, due to availability, it is recommended for straight truck requests to be made at least one day in advance of the customer's shipment date. For online orders, all customers are notified whether straight truck service is available in their requested service area. AQuickDelivery does not transport any hazardous materials.
AQuickDelivery offers the benefit of partnering with a single-source for delivery of palletized freight throughout Atlanta. Clients have access to an immediate response to their need of same-day delivery of various-sized freight. 24-hour manufacturers, fulfillment centers and part distributors can have their freight quickly delivered to their end customers, even in emergency shut down circumstances. The Atlanta courier can also provide a straight truck courier logistics solution specific for any complex client needs on a daily or weekly basis.
AQuickDelivery is a premier same-day courier offering transportation and distribution services. From small packages to palletized freight, AQuickDelivery delivers fast! As a leader in the courier industry, their goal is to perform optimal courier logistic solutions and superior customer service every time. The courier service provides same-day delivery successfully for over 1,500 clients, including Fortune 500 companies.