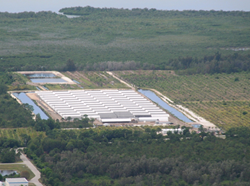 having a fresh US shrimp that can be harvested and shipped every day of the year changes everything.
Southwest Florida (PRWEB) October 15, 2014
Americans love shrimp, making it the number one consumed seafood for the past 10 years. Unfortunately, the domestic shrimp industry only supplies 12% of the demand. 88% of shrimp has to be imported from third world countries.
Imported shrimp have rightly earned a negative reputation. Concerns about use of chemicals, pesticides, medicines, antibiotics, hormones and preservatives are reported frequently. In addition, lax environmental practices and slave labor as well as third world government sponsored dumping practices make imported shrimp a poor choice for Americans.
By depending on imports for seafood, the US is putting itself in a disadvantaged position as it relates to food security. It has been evident for many years, a sustainable, high quality domestic source of shrimp has to be developed. But there is simply not enough wild shrimp to meet the US demand. The only way for the US to break its dependence on foreign imports is to culture homegrown shrimp.
Unfortunately, over the past 20 years many US shrimp growing projects have been launched but none have been able to produce fresh shrimp year round in commercial quantities. A lack of technical knowledge, experience, capital or business management, as well as suitable locations have hampered most efforts.
One year ago, American Mariculture, Inc. (AMI) broke ground on the largest greenhouse based shrimp farm in the US. Headed by Robin Pearl and Michael Mogollon. AMI uses a proprietary process that is able to produce commercial quantities of shrimp using sustainable culturing practices. This process is completely natural and allows the Company to offer fresh and healthy shrimp every day of the year. "My family lives an organic lifestyle and healthy food is very important to us. I will not grow any shrimp that I will not feed to my family. Nothing is more important than health and Sun Shrimp are a healthiest shrimp you can find" states Michael Mogollon, CTO of AMI.
The Company markets its shrimp under the brand name "Sun Shrimp" and its fresh shrimp are praised for their sweet, firm and crisp taste. Seafood professionals are excited. "At Truluck's it's important to us to serve products that make sense for the plate, the palette and the planet. Sun Shrimp from Florida are a natural fit for us. Not only are they the best tasting shrimp that I have ever tasted but it is obvious that a lot of care went into building a facility that mirrors our own philosophy." Brian Wubbena, Executive Chef Trulucks restaurants. Executive Chef Adrian Hoffman for the West Coast based Lark Creek Restaurant group says"…I have not come across another domestic shrimp with the same natural sweetness." News of this great new American shrimp spread quickly and fresh Sun Shrimp are now served in many finer restaurants throughout North America.
Sun Shrimp received Best Choice and Green ratings from both Monterey Bay and Vancouver aquariums sustainable seafood programs. In addition, Sun Shrimp are endorsed by leading sustainable seafood organizations including Fish Choice and Fish Wise.
Sun Shrimp are also offered through both smaller retailers such as Andronico's on the West Coast and Stew Leonard's on the East coast as well as larger chains such as Kroger and soon Costco in select markets.
"Everything about Sun Shrimp has been far superior from day one to all other brands I've worked with. Always fresh, the taste, texture, and consistency have been excellent, and the fact that they are some of the most sustainably raised and harvested shrimp in the world ensures that our customers are always getting the best possible product we can offer" Joe Benedetti, Andronico's Market, California
The Company operates a vertically integrated facility that is completely bio-secure and therefore does not need to use medicines or antibiotics commonly used by third world farms. Harvested shrimp are immediately deep-chilled and packed at an onsite packing plant for distribution within hours after harvest. Most Sun Shrimp reach their customer within 24 hours after harvest. "Fresh shrimp are a rarity these days. The imports all come in on frozen containers, but even the domestic shrimp boats freeze their shrimp on board, so having a fresh shrimp is something most Americans never get to experience." says Robin Pearl, President of AMI, "having a fresh US shrimp that can be harvested and shipped every day of the year changes everything."
AMI is growing rapidly in order to meet the increasing demand for its Sun Shrimp. An expansion of its production capacity is planned and with time Sun Shrimp will be able to lessen the US dependence on imported shrimp.
To learn more about Sun Shrimp, please visit http://www.sunshrimp.com or email info(at)sunshrimp(dot)com