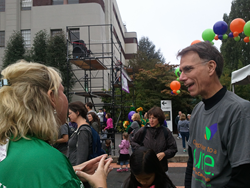 Seattle WA (PRWEB) October 16, 2014
Leveraging the momentum created by its annual May Education, Awareness & Celebration Luncheon, the Chris Elliott Fund stepped up its Brain Tumor Education and Awareness campaign for the summer of 2014.
June and July's education and outreach campaigns were centered around the 13th Annual Educational & Celebrity Golf Tournament, an event which keeps alive the spirit of its co-founder, Christopher Stewart Elliott and serves as an occasion to heighten public awareness of this disease and the need for IMMEDIATE ACCESS to advanced treatment for all brain tumor patients.
This year's Golf Tournament raised over $73,000 for much-needed patient education and support services. Featured were pairings with local sports celebrities including former Seahawks Nesby Glasgow and former Mariner Dave Henderson, an opportunity for a Long Drive expert Vinny "The Pasta Man" Ciurluini to take a shot for each golf foursome and show how it's done, and exceptionally fine weather for a memorable and fun day for all.
On September 20th, CEF was honored to participate in the 7th Annual Seattle Brain Cancer Walk, founded by Dr. Greg Foltz, which has raised over $550,000 to date for brain cancer research at the Ben & Catherine Ivy Center for Advanced Brain Tumor Treatment at Swedish Neuroscience Institute. It was an extremely moving day with patients and their families from the Pacific Northwest speaking about the impact that brain cancer has had on their lives and the need for a cure. The Chris Elliott Fund is especially proud to have helped connect many of the participants with advanced treatment, including Brian Nelson, captain of the top fundraising team.
September also featured a day of outreach to the Microsoft community who participated in United Way's annual Day of Caring with the Chris Elliott Fund. The specific project was Awareness and Outreach to physicians and other medical professionals across the country. The day started with a short presentation from CEF's President and CEO Dellann Elliott Mydland and a visit from a brain tumor patient whose life and prognosis were transformed by the Chris Elliott Fund who immediately connected him with the right medical team and treatment at a world class facility. As an added bonus, the team also re-imagined CEF's Patient Support Center as well as the Community Center, transforming the latter into a multi-purpose modular area fitting a variety of needs, especially for flexible storage and for community awareness & outreach events.
No Awareness, Education, and Outreach campaign would be possible without support from Chris Elliott Fund's media partners. Bonneville Seattle airs Public Service Educational Announcements throughout the year, with additional focus prior to local events including the Annual Golf Tournament. Clear Channel's Emoree Martin hosted an interview featured Dellann Elliott Mydland, President & CEO of the Chris Elliott Fund and Nesby Glasgow, Board Member and former player for the Seattle Seahawks. The program was aired on Clear Channel Seattle's KUBE 93 FM and Sports Radio KJR 950 AM where she spoke about issues related to Brain Tumors and Brain Cancer, some of the latest treatments and diagnostic technologies, and especially the importance of access for all Americans.
Special thanks to our top 2014 Golf Tournament sponsors: Presenting Partner, Novocure, QBSI – A Xerox Company, Snoqualmie Casino, Seattle Seahawks, Bonneville Seattle, and Clear Channel.
About The Chris Elliott Fund
The Chris Elliott Fund (CEF) is a brain cancer and brain tumor patient advocacy organization and national 501(c)(3) non-profit with offices in Redmond, Washington. Established in 2002, the Chris Elliott Fund is furiously committed to finding a cure for brain cancer and to bringing HOPE to the lives of patients and their families. CEF creates and produces patient educational materials and provides unique, one-on-one, personalized support to brain cancer patients, immediate access to advanced treatment options, specialists and comprehensive support programs. CEF also provides support and guidance concerning the day to day needs of patients and their caregivers, educates the general public on matters related to brain tumors and brain cancer and advocates on issues of national public health policies impacting the lives and welfare of brain cancer and brain tumor patients. The organization and its advocates directly serve 1300+ patients and caregivers every month free of charge. CEF is a member of the Society for Neuro-oncologists, American Association of Neuroscience Nurses, American Cancer Association for Cancer Research, Washington Biotechnology & Biomedical Association, among others. If we can help, please contact us at WeCare(at)EndBrainCancer(dot)com.
The Chris Elliott Fund has raised over $2 million to date for brain cancer research and patient support.
###