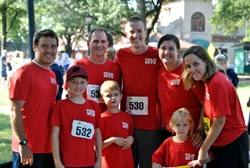 Raleigh, NC (PRWEB) October 14, 2014
More than 4,000 participants came out to support individuals with autism and their families on Oct. 11, raising more than $330,000 in the 16th annual Triangle Run/Walk for Autism in downtown Raleigh.
In North Carolina, 1 in 58 children will be diagnosed with Autism Spectrum Disorder (ASD). Proceeds from the Run/Walk for Autism events stay in North Carolina, funding local programs of the Autism Society of North Carolina (ASNC). ASNC is the leading statewide resource organization providing support for families and promoting opportunities for the over 65,000 people in the state affected by ASD.
The Triangle Run/Walk for Autism succeeded with the help of major sponsors FOX 50 and Me TV, and the top participant team, Team Liam, which raised $21,000. ASNC's goal is to raise $350,000 to help families affected by autism, and donations are still being accepted at http://www.trianglerunwalkforautism.com.
The event included competitive and noncompetitive events, and gave families a chance to celebrate autism awareness and acceptance with their community. Teams wearing matching T-shirts and carrying homemade signs filled the streets around Moore Square. A resource fair gave families a chance to learn more about available supports in the Triangle.
Background:

Autism Spectrum Disorder (ASD) is a lifelong developmental disability that typically appears during the first three years of life. Recent studies estimate that up to 1 of every 58 children born in North Carolina will be affected by ASD.
For more than 44 years, the Autism Society of North Carolina has worked to address areas of need and expand services for the autism community in North Carolina. ASNC works to directly improve the lives of individuals affected by autism, by providing advocacy, education, and services.
Additional information is available by calling 1-800-442-2762 or by visiting http://www.autismsociety-nc.org.