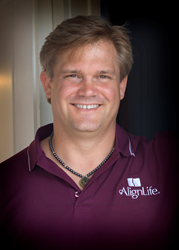 Many doctors & health care facilities overlook the adrenals as a possible cause for fatigue or depression;" stated the Dr. "It's vital to educate yourself for choices in your health care
East Stroudsburg, Pa (PRWEB) October 16, 2014
Recently Dr. Brettney Ramsour, of AlignLife East Stroudsburg had a phenomenal opportunity to change lives at a workshop on "Adrenal Fatigue an American Epidemic. " He discussed how a tiny gland may be killing your mood. He shared about uncovering the foods needed for maximum energy & repairing damaged Adrenal Glands for a better mood, a better body & more energy!
AlignLife Chiropractic & Natural Health Centers around the country are dedicated to education of their patients as well as their communities. That is why AlignLife of East Stroudsburg offers workshops at no charge.
During the month of October lives will be changed with a workshop on a natural detoxification program "Ultimate Body Cleanse." This information will help increase energy, balance mood, enhance digestion, and boost Immune Systems with possible weight loss. Your body stores a shocking 500 or more dangerous toxins on a daily basis. Join them on Monday Oct. 13 @ 6:30 pm to learn about hidden secret that aid in fatigue, pain, & chronic uncontrollable weight gain.
On Wednesday Oct. 15 they will have a Chiro Kids Day during working hours. This is sponsored by Health Missions.Org and exams by appointment for children are Free on that Day. Join them for information, education and a checkup for your child. Curious parents are invited for a consult. Just call their office at 570-476-5577 or visit them on Facebook at AlignLife of East Stroudsburg. Seating is limited at all events.
Upcoming in November is "Secrets Behind the Label"