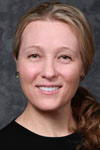 Kirsten's experience in energy commodities, with a special focus on crude oil and refined products, enhances the firm's capabilities.
Houston, TX (PRWEB) October 14, 2014
Haynes and Boone, LLP is proud to announce that Kirsten Polyansky has joined the firm's Houston office as a partner in the Energy Practice Group.
"Her vast energy finance knowledge and experience fit nicely with the firm's energy practice," said Houston Partner Buddy Clark, head of the Energy Practice Group. "Kirsten's experience in energy commodities, with a special focus on crude oil and refined products, enhances the firm's capabilities."
The Haynes and Boone recruitment of Polyansky adds depth to the commodity trading and finance group, which is poised for growth in the midstream area in part by taking advantage of trading opportunities that have opened up with the boom in domestic shale crude production and transportation across the country.
"With the marketing and trading industry segments expanding, law firms can get ahead of the trend by offering financing advice to clients handling crude from the wellhead to retail and all points in between," Polyansky said. "There are sophisticated aspects of commodities finance that we believe clients will find very attractive."
Polyansky's arrival builds on the successful recruitment earlier this year of a team of experienced commodities finance lawyers led by New York-based Partner Steve Epstein, a former vice president and senior associate counsel at The Chase Manhattan Bank, now known as JPMorgan Chase Bank. Epstein has represented some of the world's largest international and domestic financial institutions and their affiliates as well as many borrowers and issuers in structuring, documenting and negotiating syndicated unsecured, secured, asset-based and asset-backed lending transactions and in connection with domestic and international asset securitizations, structured loans and other complex structured financings.
For her part, Polyansky offers in-depth experience in the physical oil space. On the financing side, Polyansky has developed and negotiated inventory monetization/true sale commodity linked finance deals involving refineries, storage holders and third party suppliers/offtakers in several countries and can work with clients to structure bespoke arrangements to suit individual needs and jurisdictions. She also covers all commercial aspects involved in the midstream space for crude oil and refined products, including supply and offtake, transport (pipeline, rail, vessel and barge), storage, import-export, licensing, regulatory, exchanges, security and credit and force majeure and other dispute events.
Her recent representative experience includes serving as lead deal counsel for a major international institution, where she negotiated, executed and supported several true sale inventory monetization deals. She also represented a large bank to effectively "monetize" rail cars for a firm client, which supported a second firm client to supply crude oil to the East Coast from North Dakota and Canada.
Polyansky received her B.A. from University of Notre Dame, juris doctorate from Southern Methodist University Dedman School of Law and LL.M. from Georgetown University Law Center.
Haynes and Boone's Energy Practice Group is comprised of more than 75 attorneys, professional land men and senior energy market analysts with diverse backgrounds, experiences and skill sets specific to the energy industry. The practice group members' experience spans decades of active participation in the energy industry with a depth of practice that includes upstream, midstream and downstream oil and gas; natural gas transportation, liquification, and regasification; electric power generation, transmission, marketing, transactions in compliance with state commission, FERC, ISO and RTOs requirements, wholesale and retail power sales, and hedging and tolling agreements.
About Haynes and Boone
Haynes and Boone, LLP is an international corporate law firm with offices in Texas, New York, California, Washington, D.C., Shanghai and Mexico City, providing a full spectrum of legal services. With more than 500 attorneys, Haynes and Boone is ranked among the largest law firms in the nation by The National Law Journal and has been named winner of a 2013 Thomas L. Sager Diversity Award by the Minority Corporate Counsel Association.