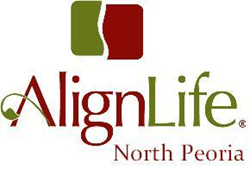 Consider donating a coat to help keep the Peoria Area warm this fall and winter.
Peoria, Il (PRWEB) October 23, 2014
The need for coats during the cooler months is fast approaching. Align Life of North Peoria is making it easy and beneficial to donate coats and allow the opportunity to make a difference and help keep those in need warm this fall and winter.
AlignLife of North Peoria is collecting clean, gently used or new coats in it's first annual Fall Coat Drive. Coats of all shapes and sizes are welcome, as well as scarves and gloves. This program is an easy way for people to give back to their community and donate coats, jackets, and winter-wear that are no longer needed. In return for donations, AlignLife of Peoria is offering a complimentary exam, consultation, and x-rays.
AlignLife of North Peoria is making donating a coat simple. Just drop off a clean, gently used or new coat at the office at 7213 N Allen Rd, Peoria, IL 61614, anytime between 9:00am and 5:00pm from now until October 31st and AlignLife will take care of the rest! All donated coats, jackets and winter-wear will be donated to the Salvation Army in Peoria for distribution to local people in need.
For all those extra coats, gloves, or scarfs laying around, please consider donating. AlignLife wants to keep local families warm in the hard winter months to come!