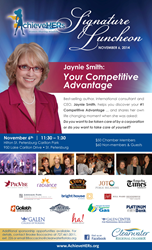 Clearwater, FL (PRWEB) October 14, 2014
The AchieveHERs, a women's business networking group appointed by the Clearwater Regional Chamber of Commerce (CRCC), is celebrating their annual luncheon featuring a presentation by Jaynie Smith, entitled "Your Competitive Advantage." Smith, a best-selling author, international consultant and CEO, will speak of her own life-changing moment when she made the decision to pinpoint what constitutes a competitive advantage in today's environment and then teach others how to achieve that in business.
Smith has spent the better part of her career modernizing the idea of the competitive advantage, and in turn, her consulting firm has lead over 150 companies through a proprietary process which uncovers competitive advantages to differentiate clients from their competition. Past client results have reported growth of 10-40% within 12 months of implementation. (1)
Smith has been featured in Entrepreneur, Industry Week, Investor's Business Daily and the New York Times, among many other magazines and newspapers. She has also appeared on several TV business shows including FoxBusiness.com, ABC World News This Morning and MSNBC.
Over the past decade, studies have demonstrated that a direct correlation exists between women in management positions and a company's prosperity, meaning that organizations with more women in senior leadership roles benefit from a higher profit margin (2). Despite the apparent benefits of women at the top of the company food chain, women's pay is only 77% of men's, leaving them at a hefty disadvantage (3). AchieveHERs, which seeks to provide an opportunity for women to collaborate and exchange business tips and experiences, has responded to this inequality by creating forums in which women can discuss the necessary vehicles needed to reach high leadership roles.
Last year's luncheon for AchieveHERs was sold out to over 300 attendees, the highest attendance for an inaugural event in the history of the Clearwater Regional Chamber of Commerce.
Tina Tenret, the Chair of AchieveHERs, says that AchieveHERs will continue its mission of creating opportunities for women who are looking to overcome obstacles and increase their competitive edge as businesswomen.
At the luncheon event Smith will advise on best practices to for an individual or corporation to attain a competitive advantage in a saturated environment. The event will take place on November 6 from 11:30 to 1:30 p.m. at the Hilton St. Petersburg Carillon Park (950 Lake Carillon Drive, St. Petersburg). Admission costs are:

$50 for chamber members
$60 for non-members and guests.
For more information about the AchieveHERs, or to sign up for updates and upcoming event information, please visit http://www.achievehers.org or call 727-461-0011.
The annual luncheon's Sponsors include: ProVise Management, Radiance MedSpa, JoTo Public Relations, Tampa Bay Times, Johnson Pope Bokor Ruppel and Burns, Bright House Networks, Hill Ward Henderson, Ha! Design Group, Cody's Original Roadhouse, Platinum Bank, Clearwater Gas Sytem, Galen College of Nursing, Galen Center for Professional Development, D-Mar General Contracting, Goliath Construction Consulting, Sun Country Cleaners and Morton Plant Mease.
About AchieveHERs:
To meet the demand of businesswomen in the Clearwater region, AchieveHERs was established under the auspices of the Clearwater Regional Chamber of Commerce to be a regional leader providing camaraderie, support, networking opportunities and valuable new insights to women in business. AchieveHERs will provide impactful quarterly events that share insight, ideas, skills and success stories to ultimately help women overcome obstacles to their success. AchieveHERs is open to both established women in business and those aspiring to lead. For more information or to inquire about membership or attend events, visit their Facebook page at http://www.facebook.com/AchieveHers or their website at http://www.achievehers.org.
1. "About Jaynie L. Smith." N.p., n.d. Web. 6 Oct. 2014. jayniesmith.com/about/.
2. Wallace, Kelly. "What Changes with Women in the Boardroom?" Cnn.com. Cable News Network, 23 Oct. 2013. Web. 25 Oct. 2013. http://www.cnn.com/2013/10/23/living/identity-women-management/.
3. Morello, Carol, Peyton Craighill, and Scott Clement. "More People Express Uncertainty in Chance to Achieve the American Dream." Washingtonpost.com. The Washington Post, 28 Sept. 2013. Web. 30 Sept. 2013. http://www.washingtonpost.com/local/more-people-express-uncertainty-in-chance-to-achieve-the-american-dream/2013/09/28/d8e99084-260e-11e3-ad0d-b7c8d2a594b9_story.html.