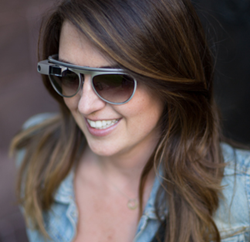 Smart Glasses may be the most game changing innovation since the first Smart Phone...
Rochester, NY (PRWEB) October 15, 2014
The explosion of global revenue from wearable technology has dramatically increased for sectors such as fitness, watches, clothing, gaming, healthcare, enterprise and now is aimed squarely at the eyewear industry. With interest surging by consumer and enterprise the world over, Smart Glasses may be the most game changing innovation since the first Smart Phone altered the entire cell phone market with the introduction of the iPhone in June of 2007. Fast-forwarding to today, Apple has sold over a half a Billion of them, and Smart Phones have become like air to most users of them.
Many eyewear manufacturers are taking notice. With the merging of fashion and technology, the future of eyewear is getting clearer. Technology giants like Google, Seiko, Epson, Samsung, Lenovo, Sony and Microsoft all either have Smart Glasses on the market or are releasing one shortly. The global stage for this new sector is ready to mushroom quickly, not just in units sold but in real profit. Global revenue from smart devices will triple by 2016 and surpass $50 Billion in sales by 2019, according to Jupiter Research.
Rochester Optical, the American frame and optics manufacturer, saw this coming and has taken the Google Glass by the horns to blaze the trail, if not literally. The Smart GOLD™ lens technology for Smart Glasses has generated an astounding amount of attention and accolades for this breakthrough in eyewear innovation. For example, at this year's Silmo, the annual Paris optical fair, the Smart GOLD™ lenses and frames proved to be a sensation. Bob Forgan, Chief Executive of Vision Technologies Europe, commented on the reception in Paris said, "The interest in all our Smart Glass products was amazing. This is a rapidly developing product area and one that everyone wants to know about. We opened many new accounts during the show, not just from customers in mainland Europe but also from Africa to Australia."
Rochester Optical is certainly not resting on their ground-breaking innovation. They have announced collaboration with Simon Chim, the renowned Hong Kong designer, to set a new facial context for Smart Glasses that will set the bar even higher. Mr. Chim says, Iin all of my years of designing, I have never been more excited about an entry into the eyewear industry as I have smart glasses. This fusion of creative design and technology is what will be the choice of the next generation." Director of Wearable Technologies at Rochester Optical, Tim Moore, added, "The opportunities for eye care professionals to be set themselves apart from 'everyone else' with Smart Glasses is now. Offering prescription lenses, safety shields, and fashionable and comfortable frames for Smart Glasses will obviously garner tremendous consumer interest, restore their profitable and successful practice on a scale that has not been seen in this century, and position themselves firmly for the future."
See 'The Future Of Eyewear' at the Hong Kong Optical Fair November 5-7, 2014.
About Rochester Optical
Rochester Optical has the most advanced prescription lens solution for smart glasses called Smart GOLD™ Lenses. Like no other, Smart GOLD™ Lenses provide visual acuity when you are wearing smart glasses including Google Glass, Vuzix M100 and Epson Moverio BT200. Rochester Optical leads the way in optical innovation including safety and fashion frame and lenses design. Please contact Rochester Optical below for more information.
Media contact:
http://www.rochesteroptical.com
http://www.smartgoldlenses.com
Wendy Emerson: wendy(dot)emerson(at)rochesteroptical(dot)com