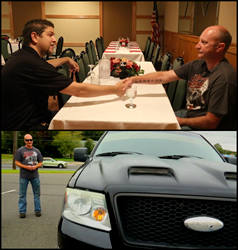 With a family my size, a military salary doesn't go very far, so this Metal of Honor Award is going to come in very handy. -- William Willingham, USAF
Trevose, PA (PRWEB) October 14, 2014
William Willingham, a U.S. Air Force non-commissioned officer still on active duty after 18 years, is the latest winner of CollisionMax's Metal of Honor Award, the company announced today. As a result, CollisionMax of Sicklerville, NJ will repair his black 2006 Ford F-150 pickup truck free of charge.
A resident of Lindenwold, NJ, Mr. Willingham, 37, was born and raised in Kenton County, Kentucky, and enlisted in 1996, a year after he graduated from high school. "I was wondering what to do with my life, and I talked it over with my father, who was in the Army for 20 years and served in the Desert Storm campaign" in Kuwait and Iraq in 1991. "I was thinking about a military career, and he said he thought the Air Force would be the way to go."
In the course of his career, Mr. Willingham says he has served both overseas and various places in the United States, but can't talk about his service because it involves classified operations. What he could say was that he serves at a base in New Jersey and uses his truck to make a daily 80-mile commute to work.
"The military has been great to me," he said. "It's given me skills that I can use in a lot of different ways when I retire" in two more years.
Married and the father of six children, Mr. Willingham said the right front and side of his truck were badly damaged early last year when he accidentally sideswiped a telephone pole after a very long day of work. "Since it was my fault, I was going to have to pay the deductible, and my insurance premium would probably go up, neither of which I could afford." So he decided not to make a claim and wait to put enough money together to get the truck repaired, he explained.
"With a family my size, a military salary doesn't go very far, so this Metal of Honor Award is going to come in very handy," Mr. Willingham remarked. He said he nominated himself after learning about the award on Facebook. "I'd completely forgotten about that, so it came as a real surprise when I found out I'd won."
Mr. Willingham owns two show cars, a 1926 Model T Ford hot rod and a sporty 2005 Dodge Ram SRT 10 pickup truck. He is also a member of a South Jersey car club, Endless Pleazures, which, in addition to its regular activities, conducts a number of charity drives throughout the year, including fundraising for breast cancer and autism research, and collecting toys for needy children and books for children receiving care at Cooper University Hospital in Camden, NJ.
Ironically, a few days ago – the day after his Ford went in for its Metal of Honor repairs -- he was rear-ended while driving the Dodge to work. "It was the other driver's fault, so I'm filing a claim and am going to have the truck fixed at the same CollisionMax shop," he said.
Through its Metal of Honor Project, now in its second year, CollisionMax gives away auto body repairs to U.S. military veterans. Mr. Willingham is the project's 15th winner. The company selects the winners from nominations it receives from the public on the project's web site, http://www.metalofhonorproject.com.
"The Metal of Honor Project is our way of saying thank you and honoring the men and women of our armed forces who put their lives on the line for all of us," said Jim Tornetta, CollisionMax president and CEO.
In New Jersey, CollisionMax operates shops in Blackwood, Cinnaminson, Glassboro, Marlton, Pennsauken, Sicklerville and Westmont. In Pennsylvania, it has repair centers in Oxford Valley, Warminster and two in Northeast Philadelphia (both on West Grant Avenue). For information about CollisionMax, please visit http://www.collisionmax.com.