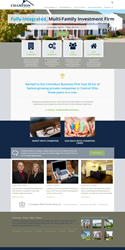 As a young, fast-growing company, we have been discovering who we are and who we want to be in the marketplace. These sites help express exactly that to our key audiences.
Westerville, OH (PRWEB) October 16, 2014
On Tuesday, Champion Real Estate Services, in partnership with 30 Lines, a full-service digital marketing company, launched two new websites, the first update to the company's web presence since 2010.
Splitting their current website into two, Champion's multi-family investment services can now be found at thechampioncompanies.com, while information about living at one of the company's 15 apartment communities can be found separately at livewithchampion.com.
"We're very excited to share with the world our new sites and our new online brand," Britany Lovins, Champion's marketing and communications director, said. "As a young, fast-growing company, we have been discovering who we are and who we want to be in the marketplace. These sites help express exactly that to our key audiences."
The new websites feature a more modern design and greater functionality for site visitors. They also host more detailed, organized content and multiple ways to connect with Champion.
"We wanted to make it easier for our different target audiences to find the information they are searching for," Lovins said. "Now those searching for an apartment home won't have to sift through information about our investment and brokerage services and vice versa."
Champion partnered with 30 Lines, of Columbus, early in 2014 after meeting with several agencies through a request for proposal process. 30 Lines brought extensive knowledge of the apartment industry to the table, as they have provided web solutions to a number of other companies in the industry, both locally and nationally.
"Mike (Whaling) and his team at 30 Lines spoke our language, and they had great ideas for how to make our site more interesting and easier to use. We could not be more pleased with the results," Lovins added.
The new apartment living site includes an updated search function, which gives users three different ways to find an apartment, based on their preferences, as well as new Resident and Future Resident Centers that act as portals to all of the specific information each audience would need.
And perhaps the biggest improvement from Champion's previous website is the functionality of mobile-responsiveness that 30 Lines has added. This means that no matter what size screen a visitor is using, whether a cellphone, tablet, desktop or laptop, the websites will configure to fit that screen to allow the best browsing experience possible.
For more information on Champion's new websites, visit thechampioncompanies.com or livewithchampion.com.
About Champion Real Estate Services
Founded in 2010, Champion is a privately-held, fully-integrated, multi-family investment firm. Champion is family-owned and operated and specializes in multi-family investment syndication, property management and investment sales in Central Ohio. Champion currently manages more than 4,100 apartments across 15 communities in the growing cities of Canal Winchester, Delaware, Dublin, Gahanna, Grove City, Hilliard, Lewis Center (Polaris), New Albany, Powell and Westerville. Champion has been recognized three years in a row as one of Central Ohio's fastest growing companies by Columbus Business First's Fast 50 list, ranking third in 2012, fifth in 2013 and ninth in 2014.