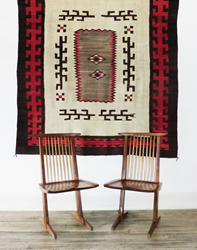 I am happy to have found these pieces on my travels, as the popularity of Mid-Century Modern furniture makes it more and more difficult to find items in good condition at a reasonable price. -Shiprock Santa Fe gallery owner Jed Foutz
Santa Fe, New Mexico (PRWEB) October 15, 2014
Shiprock Santa Fe gallery announces a new shipment of Mid-Century Modern furniture, displayed in the gallery's historic space high above the Santa Fe Plaza. The new items include a pair of Conoid chairs by iconic furniture artist George Nakashima.
"We are thrilled to offer some wonderful pieces of Mid-Century Modern furniture to join our collection of Navajo textiles, Native American jewelry and pottery," says Jed Foutz, owner of Shiprock Santa Fe gallery. "The Nakashima chairs are in beautiful condition and joined by leather club chairs and a bentwood side chair, among other items."
"I am happy to have found these pieces on my travels, as the popularity of Mid-Century Modern furniture makes it more and more difficult to find items in good condition at a reasonable price," Jed says. The gallery's main showroom has been reset to display the new items.
Shiprock Santa Fe gallery offers knowledgeable salespeople and expertise in fine traditional and contemporary Native American pieces – plus a unique design aesthetic. "Come by the gallery to see how classic 20th century furniture complements Navajo textiles, and vice versa. We are happy to consult for anyone considering refurnishing a home or office," says gallery Director Jamie Way.
Shiprock Santa Fe gallery is located on the corner of the Santa Fe Plaza, 53 Old Santa Fe Trail, 2nd floor.
ABOUT SHIPROCK SANTA FE GALLERY
Founded in 2006, Shiprock Santa Fe gallery is the capstone creation for fifth generation trading post owner Jed Foutz. Raised on the Navajo Reservation, Foutz has a studied eye and impeccable aesthetic that gives Shiprock Santa Fe both a vintage and modern appeal that attracts top fashion buyers, designers, filmmakers, and renowned art collectors. Mixing Mid Century Modern design with antique and contemporary Native art, Shiprock Santa Fe gallery has become a resource for internationally known artists and designers. The gallery features a considerable inventory of historic Navajo textiles and turn of the century silver and turquoise jewelry, as well as the work of some of the most well known artists in contemporary Native art. Foutz has carefully cultivated a collection of pieces ranging from vintage furnishings by George Nakashima, vintage and contemporary pottery, basketry, fine art, and eclectic finds from Jed's world travels. Shiprock Santa Fe's knowledgeable staff is well versed in the material and provides both acquisition and appraisal services, working with clients looking to acquire a single collectible or build corporate or personal collections.
For more information, please visit https://www.shiprocksantafe.com/.