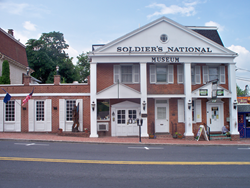 It's tough to see such a long running tradition wind to a close but it's also not every day that the public can bid on relics as rare as these.
Gettysburg, PA (PRWEB) November 04, 2014
After 50 years of continuous operation under various business names, the Soldiers National Museum has shut its doors. The museum's contents are set to be auctioned off on November 21st and 22nd at the 1863 Inn of Gettysburg. Among the items available for bidding are rare toy soldiers, one-of-a-kind civil war dioramas, life-sized soldier figures and other artifacts from the history-rich Gettysburg Campaign, among other major Civil War conflicts. PA Onsite Auctions will handle the bidding, which will occur in the ball room of the 1863 Inn of Gettysburg, located at 516 Baltimore Street in the heart of Gettysburg. A special preview of the to-be auctioned items will be held from 12 PM - 6 PM on November 20th, also hosted by the 1863 Inn of Gettysburg. For more information on the auction, contact PA Onsite Auctions at 717-630-9349.
Current owner Max Felty described the museum's tenure and the opportunity being presented to the public, "It's tough to see such a long running tradition wind to a close but it's also not every day that the public can bid on relics and collectibles like these." Felty continued, "We're sad to see the museum go but it's of some consolation that these artifacts will end up in the hands of Civil War history lovers and aficionados."
The Soldiers National Museum, formerly the Soldier's National Orphanage, featured many unique exhibits from a Yankee musket that was known to be "loaded on Sunday and fired all week," to a full-scale recreation of a Confederate campsite. The location has operated as an American Civil War Museum for over 50 years while changing ownership and names. Current ownership also operates Gettysburg Battlefield Bus Tours, the famous Jenny Wade House, and many other Gettysburg tourist mainstays. The building that played host to the museum was also of historic value, having served as the headquarters of General O. O Howard during the battle and later becoming the National Soldiers Orphans Homestead, which was an orphanage dating back to 1867. When in operation, the museum ran free exhibits for visitors interested in the building's history.
Gettysburg Battlefield Tours has been shuttling Gettysburg history gazers since the 1950's and their double decker guided tours serve as a lasting area icon. Their haunted tours of TV lore also see ghost hunters and curious people alike flocking from all around to catch a glimpse of one their infamous ghosts. Whether it's for the sake of novelty or to soak in the rich history of one of the most decisive military conflicts in American History, Gettysburg Battlefield Tours is the place to book your next trip.