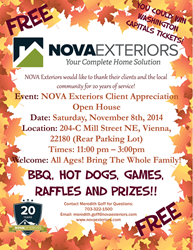 It's our mission to provide clients with superior quality products and service at a reasonable, affordable price.
Vienna, VA (PRWEB) October 21, 2014
On Saturday November 8th, NOVA Exteriors will be hosting a Client Appreciation Open House at their location in Vienna, VA. The home remodeling and door replacement company would like to thank their clients and local community for continued support over the past 20 years. This event is free and open to all ages- so bring the kids! There will be BBQ, fun games for the kids, and also raffles with prizes including Washington Capitals tickets. Most importantly the event will give NOVA Exteriors employees an opportunity to thank their clients for their loyalty. The event is open to anyone, not just past clients. NOVA also wants to extend the opportunity for potential new clients to come and ask questions, see samples, and hear from the past clients' experiences.
Since the beginning of the business in 1995, President Pete Vlantis has said, "It's our mission to provide clients with superior quality products and service at a reasonable, affordable price." NOVA Exteriors proudly offers expert services in vinyl replacement windows, insulated vinyl siding, asphalt roofing, kitchen & bath remodeling, custom built decks, entry and storm door replacement, as well as seamless gutters and downspouts. NOVA Exteriors has combined a passion for the industry with a passion for client satisfaction. Well-trained staff make the client experience a positive and comforting one. Being sensitive to the client's needs, NOVA Exteriors also allows for payment plans and financing to make your visions for your home come true.
NOVA Exteriors knows that it is imperative for a business to express their appreciation to their clients, and pride in the community around them. The satisfaction of the client is the key to successful business, and NOVA Exteriors wouldn't be here without their rave reviews and notes of gratitude. The Open House will feature something for everyone in the family. The kids will be entertained with games and prizes while you enjoy some great food and a chance to incite creative visions for your home. Hosting an appreciation event is just one way that NOVA Exteriors would like to say thank you to their clients and community for 20 great years. Here's to 20 more!
You can visit NOVA Exteriors at their website here to sign up for a Free Consultation.
Event: NOVA Exteriors Client Appreciation Open House
Date: Saturday, November 8th, 2014
Location: 204-C Mill Street NE, Vienna, 22180
Time: 11:00 am – 3:00pm
Providing: Free food, games, raffles and more!
Welcome: All ages - Bring the whole family!