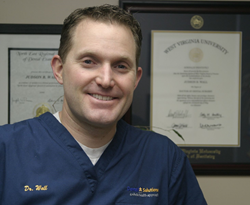 Bountiful, UT (PRWEB) October 14, 2014
Dr. Judson B. Wall of Dental Solutions is proud to announce the availability of an advanced receding gums treatment, for residents looking for an experienced dentist in Bountiful, UT. Dr. Wall now utilizes the minimally invasive Pinhole Surgical Technique (PST™) to treat gum recession. Many people mistakenly believe that gum recession is irreversible, but with PST™ Dr. Wall is able to correct recession with virtually no pain and down time.
Many factors can contribute to receding gums, with parafunction (clenching and grinding) and periodontal disease being the primary causes. Some of the preventable contributors include tobacco use, aggressive brushing, inadequate oral hygiene, and oral piercings. When patients visit Dr. Wall for help with their gums, he reviews the likely causes with them and discusses ways to intervene. This counseling is an important part of treatment because without making changes, the repaired gum tissues may recede again. Patients may also have reasons for gum recession that are not typically viewed as being associated with oral health, which this holistic dentist in Bountiful, UT can also discuss. Factors such as fluctuating hormone levels, TMJ disorder, sleep apnea, digestive issues, genetics and emotional imbalance are some of these factors. With help, patients can lessen the causes over which they have control and better understand how the teeth and gums affect the body.
PST™ is an advanced means to treat receding gums. This minimally invasive procedure is fast and effective. Dr. Wall uses a specialized instrument to create a tiny opening in the gums, through which he detaches the gums from where they connect to the tooth. He then moves the loose tissue into a healthier position by simply sliding it into place. Collagen and platelet rich fibrin is then inserted to hold the tissue in place. Once completed, patients are able to see immediate results and experience little discomfort during and after the procedure. The swelling and pain associated with traditional surgery are typically avoided, and the overall healing time is reduced. No stitches or cutting are necessary, and patients leave their appointments to return almost immediately to daily activities.
Those who are looking for a dentist in Bountiful, UT are invited to contact Dr. Wall's office. Dr. Wall enjoys the chance to discuss treatment options with patients and provides personalized consultations, looking at the patient as a whole. Anyone who wants more information about PST™ may also visit Dr. Wall's website, where he has posted educational resources for patients and the general public.
About the Doctor
Dental Solutions, Inc. is a general practice offering personalized, holistic dental care for patients in Bountiful, UT for nearly 15 years. Dr. Judson B. Wall is a graduate of the University of Utah and received his Doctor of Dental Surgery from the West Virginia University School of Dentistry. He has an impressive list of accomplishments and credentials, including a Fellowship with the Academy of General Dentistry , Accreditation by the International Academy of Oral Medicine and Toxicology, a Fellowship with the American Academy of Craniofacial Pain, and an Associate Fellowship with the World Clinical Laser Institute. Dr. Wall is committed to continuing education, and provides training to dentists from around the world on holistic dentistry and providing patients with exceptional care. To learn more about Dental Solutions, Inc., please visit their website at http://www.tmjdental.com or call (801) 298-1812.