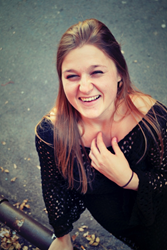 The reason I started Yellowberry was to give girls another option.
(PRWEB) October 16, 2014
Wyoming native and founder of Yellowberry, Megan Grassell, 19, was named one of TIME's most influential teens in 2014. She joins an impressive list including: Mo'ne Davis, 13; Sasha Obama, 13; Malia Obama, 16; Chloë Grace Moretz, 17; and Malala Yousafzai, 17.
http://time.com/3486048/most-influential-teens-2014/
Megan Grassell, 19
"After taking her 13-year-old sister shopping for bras, Grassell was perturbed by how sexualized most of the available choices were for young girls; everything seemed to have padding and underwires. So she started her own company, Yellowberry, to offer an alternative: comfortable, colorful training bras with names like Junebug and Sugar Cookie. She initially raised $42,000 through Kickstarter—well above the $25,000 goal she set for herself—and now runs a full-fledged online retailer." —S.B.
contact: megan(at)yellowberrycompany(dot)com
1230 Fall Creek Rd, Suite A
Wilson, WY 83014