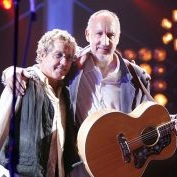 The Who Release Tickets For Concerts In New York, Philadelphia, Washington,DC and Chicago With Seats Available At TicketsCheapest.com Even After Venues Sell Out
New York, NY (PRWEB) October 17, 2014
The Who Hits 50 Tour will visit many cities around the world in 2015. This includes American cities like New York City, St Louis, Philadelphia, Atlantic City, Raleigh, Washington, DC, Chicago, Dallas, Los Angeles, Anaheim, Las Vegas, Austin, Houston, Miami, Tampa, Jacksonville and Louisville. They will also make stops in Canadian cities like Toronto, Calgary, Edmonton and Vancouver.
The Who, an English rock and roll band, formed in 1964 with original band members Roger Daltrey, Pete Townshend, John Entwistle and Keith Moon. This iconic band is considered one of the most influential and creative British rock bands. The group was somewhat successful in the UK with the release of songs like "I Can't Explain" and "My Generation" however; it took the group a while to gain popularity in the US .Their performance at the International Pop Festival in Monterey, CA in 1967 really got them noticed. The Who became known for their live performance antics that incorporated high energy moves and the destruction of musical instruments. Throughout the years this group has released songs like "The Kids Are Alright", "I Can See For Miles" and "Pinball Wizard" to name a very few. Several of their songs have been used as theme songs on the television series CSI. They include "Who Are You", "Won't Get Fooled Again" and "Baba O'Riley". The Who have won multiple awards including induction into the Rock and Roll Hall of Fame and The UK Music Hall of Fame.
Two of the original 4 band members will take part in the upcoming tour. Roger Daltrey and Pete Townshend will be performing as the group celebrates 50 years of making music. The US portion of The Who Hits 50 Tour set to begin in Tampa, FL in April with stops in cities from coast to coast including Uniondale, Brooklyn and Forest Hills, NY in May. Fans in the New York City area can buy cheaper concert tickets, when compared to other resale sites, at TicketsCheapest.com. Even seats sold out at the box office may be purchased with a wide variety of tickets for sale from many sellers. Enjoy The Who live, but experience their show for less money by purchasing tickets at TicketsCheapest.com online.
Fans of Broadway shows planning a visit to New York City will discover great savings in one convenient location at Ticket Broadway. Best yet, not only can travelers purchase their own Broadway theater tickets, Lincoln Center opera tickets, or Radio City Music Hall's Rockettes tickets, but they can book Broadway hotels too. Tickets Cheapest allows consumers to find even more NYC events like Knicks or New York Rangers, the 2015 NBA All Star Game, concerts including Elton John, James Taylor, Fleetwood Mac, Motley Crue, Usher, Bryan Adams, Stevie Wonder, Andrea Bocelli, Cher with Pat Benatar and Billy Joel performing at Madison Square Garden.
When looking for tickets to sold out concerts or for premium tickets like floor seats, TicketsCheapest.com can prove to be the best bet. Try TicketsCheapest.com for other hard to get tickets like MLB, NFL, NBA, NHL and all major events in addition to popular concerts. Find the right Who tickets online or by phone at 855 805 5266 for professional personal assistance.
About Financial Firebird and Tickets Cheapest:
Financial Firebird Corporation, established in 2000 and a proud BBB member, provides unbiased consumer information particularly involving personal unsecured debt or mortgages, software and marketing services. These sites for consumers to buy cheap concert tickets online operate in the resale market and maintain no relationship with the venues or performers. The resale ticket market allows consumers access to popular events including sports, concerts, and Broadway show tickets like Motown The Musical once the box office has sold out. Consumers may also buy premium seats when the venue no longer offers any inventory. Within the group of these secondary market ticket services the Financial Firebird owned ticket sites offer lower prices than competitors. Find the sites at TicketsCheapest.com.