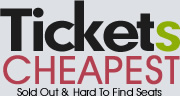 In a recent study TicketsCheapest.com beat ticket prices after fees for all 25 competitors examined including Stubhub when comparing the exact same seat.
New York, NY (PRWEB) December 31, 2014
Discount event tickets site, TicketsCheapest.com from Financial Firebird Corporation, introduces a new domain to make it easier for customers to remember where they can find their Tickets Cheapest. Consumers can find tickets for sold out concerts, theater or pro sports at prices cheaper than other online resale sites and save even more with coupon code TRYCHEAPEST10 at checkout. In addition to the most popular events, special pages for all major cities highlight the cheapest tickets for events in each locality. Sometimes tickets may be found as cheap as $1 each. Cheap Los Angeles tickets and cheap New York City tickets usually feature the most events at a discount. For Example, several college bowl games offered tickets cheap at TicketsCheapest.com including today's Orange Bowl at only a single dollar. Past $1 games have included NBA, and MLB contests. Sports events with tickets available include pro leagues like the NFL, NBA, NHL and MLB, with even the hardest seats still for sale, like New York Knicks tickets right at courtside.
Resale ticket sites, primarily dealing in tickets to sold out events or premium seats to specific performances often make wild claims about offering cheap prices. Not only did a recent study find this site beat all 25 competitors examined, the site also provides special software to find the least expensive performance of a show and alerts customers to special prices with its Ticket Of The Day award. The site uses proprietary software to discover tickets selling at special discounts to their normal resale value. Often, Ticket Of The Day selections appear at a 65%-90% discount from their average resale value.
Beyond staples of a huge supply of pro sports and theater tickets, the most extensive inventory of tickets may appear in the live concert category. Popular shows sell out fast, but tickets may almost always be available and less than other sites offering the exact same sets but charging more. Once the opportunity to buy regular box office seats has passed, the site may offer an unmatched selection and the cheapest concert tickets anywhere. Recent popular acts include the Garth Brooks and Taylor Swift, with all of the performances in North America still available.
Tickets for any of these concerts or games can be purchased using the E-Ticket option that allows fans to print a ticket right from their computer. The computer systems at the arenas or stadiums make using tickets printed at home easy. With the 125% ticket guarantee of authenticity and guaranteed admission, fans need not be concerned about validity of an E-ticket. In addition to E-Ticket options, many tickets may still be shipped via next day air service or picked up near the venue. Play it safe and buy last minute tickets from a trusted source owned by a company with a longstanding excellent history with the BBB.
When looking for a ticket to a sold out show or wishing to get great seats to a popular event at a price cheaper than the exact same sets at other sites give the Tickets Cheapest site a try, and be on the lookout for more new cheap ticket tools coming soon to save even more money. Call 855 805 5266 for personal order by telephone service.
About Tickets Cheapest and Financial Firebird:
The Cheapest Tickets pages and its sister sites, including a Broadway Tickets site, all geared for the consumers looking for low prices, are affiliated with the Financial Firebird Corporation Travel Group. Financial Firebird Corporation, established in 2000 and proud BBB member, provides unbiased consumer information, software and marketing services. These sites to buy tickets online operate in the resale market and maintain no relationship with the venues or performers. The resale ticket market allows consumers access to popular events once the box office has sold out or to buy premium seats when the venue no longer offers any inventory. Within the group of these secondary market ticket services the Financial Firebird owned ticket sites offer lower prices than competitors.