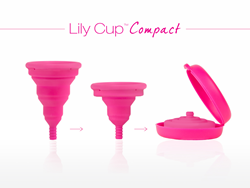 This is the first huge innovation in menstrual cup design in at least a decade. We pushed ourselves to create a cup that will truly compete with pads and tampons.
Stockholm/San Jose (PRWEB) October 15, 2014
Swedish brand Intimina has launched its funding project for the world's first collapsible menstrual cup – Lily Cup Compact – on crowd funding website Kickstarter, to take on the pad and tampon industry.
A US woman will, in her lifetime, use and dispose of 12,000 pads or tampons, and the menstrual product waste created by US women each year averages 270,000 tons: that's equivalent to the weight of six Titanics. The health impact of pads and tampons has also recently been put in the spotlight, with research showing that they can contain traces of toxic chemicals.
Reusable menstrual cups, which eliminate these waste and health issues, are attracting a growing following from women. In fact, research has also shown that 9 out of 10 women who try a cup would recommend it to a friend. So why are they not more widely known and available? Sanitary product manufacturers make huge profits from the guaranteed monthly repurchase of their disposable products, which fund advertising campaigns that menstrual cup companies struggle to compete against.
Intimina is challenging the daily norm and striving to ensure women around the world have a healthier, eco-friendly and economical option when choosing their period protection. Their aim is to bring menstrual cups into the mainstream by launching a cup with mass market appeal on Kickstarter.
Lily Cup Compact is the first collapsible menstrual cup ever created, and solves both the environmental and health aspects of period care while introducing a new level of convenience. Its unique design can fold flat and fit into a small protective case no bigger than a tin of lip balm. This is perfect for carrying around in a bag or pocket, ready to for you to simply pop it open when your period starts.
The cup, made of medical-grade silicone, is inserted into the vagina to collect menstrual flow rather than absorbing it. It is worn for up to 10 hours, rinsed out, and reinserted. Because it lasts for years, just one Lily Cup Compact can do the job of over 1625 pads or tampons.
Intimina's Global Brand Manager, Amandine Pranlas-Descours said "This is the first huge innovation in menstrual cup design in at least a decade. We pushed ourselves to create a cup that will truly compete with pads and tampons. It's not just the softest and most comfortable menstrual cup; it's the very best period protection out there."
With Kickstarter, Intimina can make this project a reality, and raise awareness that there is a better alternative for period protection. The 40 day campaign will run from Oct. 14 - Nov. 23. The first 100 backers can get a Lily Cup Compact for just $29 exclusively on the Kickstarter project page and each pledge brings menstrual cups closer to the mainstream.
Notes to Editors:
Research references
http://www.womensvoices.org/wp-content/uploads/2013/11/Chem-Fatale-Report.pdf
http://www.ncbi.nlm.nih.gov/pmc/articles/PMC3114692/
Note to Editors: All media inquiries can be directed to lucy.lynch(at)intimina(dot)com.
Established in 2009, Intimina is the only global brand that offers a complete line of products solely for the benefit of women's intimate well-being. With three care ranges – Menstrual Care, Pelvic Floor Strengthening, and Feminine Wellness – Intimina has products for women of all ages. Every product is made from the highest quality body-safe materials, and has been designed and tested with the support of a worldwide group of medical consultants and gynecologists. For more information, visit http://www.intimina.com.