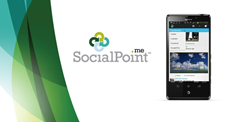 Cincinnati, Ohio (PRWEB) October 16, 2014
SocialPoint is the first social media management app designed to allow social posting, social feed filtering, complete social interaction capabilities, and the ability to search social media feeds using keywords. The Android app also integrates with AT&T messenger.
SocialPoint is quickly gaining traction as a simple, user-friendly, free, and functional social media management system designed for the non-professional social media user.
SocialPoint offers a clean, fun, and intuitive interface. Stuffed with advanced features, it is available via Google Play, Amazon, and in the Apple Store. The app provides users a home where all of their important social media feeds are available in one place. It also features advanced search functionality and content posting functions on most networks.
The latest iOS update allows the ability to aggregate all of the feeds, as well as post to Facebook, Instagram, Twitter, and Foursquare. The ability to manage Tumblr, LinkedIn, Google+, and AT&T is coming soon to the iOS app.
The Android app manages Facebook, LinkedIn, Google+, Instagram, Twitter, Tumblr, Foursquare, and AT&T Messenger.
SocialPoint's goal is to eliminate the hassle of multiple logins, and simplify each user's fragmented social media experience. It offers true organization without unnecessary hassle, all managed through a simple and highly intuitive interface. The basic version is available free of charge on both platforms. Some advanced functions are available to Android users for a small fee.
Visit the App Store on iOS or Google Play to download the app.