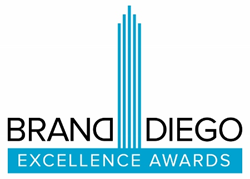 We're honored to receive the nomination for Agency of the Year from SDX and the Brand Diego Awards
San Diego, CA (PRWEB) October 16, 2014
Nominations for the 2014 Brand Diego Awards, presented by SDX, have recently been announced. Humbly accepting two nominations, including a nomination for Agency of the Year, is international digital advertising agency, Geary LSF.
As an organization positioned at the intersection of advertising, digital and technology, SDX formed the Brand Diego Awards to honor not the work that's being created, but instead the teams creating the work. This year's Brand Diego Awards honor and recognize the best-of-the-best in local brands, agencies, and individuals, each of whom are helping to elevate San Diego not only as a creative hub, but as a real competitor in the industry.
"We're honored to receive the nomination for Agency of the Year from SDX and the Brand Diego Awards," says Cary Johnson, Executive Vice President of Sales & Marketing for Geary LSF. "Truthfully though, the real honor is being able to showcase our hardworking and talented team here in San Diego. Without the dedication and drive of our employees, there would be no clients, there would be no work, and there would be no agency. As an organization, it's our goal, and our duty, to recognize this not just during award season, but to remember it each and every day."
The Agency of the Year Award, as described by SDX, is presented to the San Diego agency that has stood out in the past year and has risen above the competition in terms of service, creativity, corporate social responsibility, culture and growth. With 50+ advertising agencies in San Diego county and counting, receiving a nomination is a huge honor in and of itself. In addition to the Agency of the Year nomination, Geary LSF Executive Vice President of Product, Ramsay Crooks, was also honored with a nomination for Agency Professional of the Year based on his reputation in the industry as not only a thought leader, but a contributing member of the local San Diego community always willing to go the extra mile and help those in need. All Brand Diego Award nominees will gather the evening of October 23rd , in a ceremony open to the public, as the winners are announced.
For more information on the Brand Diego Awards and the nominees, visit the SDX website here. For more information about Geary LSF, their work and their services, please visit GearyLSF.com or contact a representative of the agency at marketing(at)gearylsf(dot)com.
About Geary LSF
Geary LSF is an integrated full-service online marketing group that uniquely optimizes the digital customer engagement path, delivering more results per campaign. It provides advertisers with comprehensive services from Strategy to Development, Media Planning to Placement, SEO, SEM, Analytics, Social, Local and Mobile media. Headquartered in San Francisco, the 200-people strong Geary LSF manages campaigns for more than 240 brands worldwide including: WD-40 Company, Bumble Bee Foods, MegaPath, Aramark, Ashley Furniture, Target, Club Med and several others. For more information, please visit http://www.gearylsf.com.