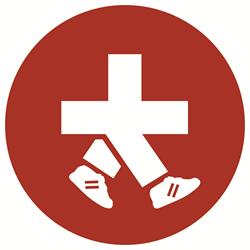 The best marker of your sleep quality is making note of how you feel when you wake up.
Austin, Texas (PRWEB) October 21, 2014
Everyone suffers from a bad night's sleep now and again, but those whose sleep is regularly disturbed know firsthand the effects can be far-reaching. Not only does irregular sleep make a person feel tired, but it also affects their long-term health. Lack of sleep is a stressor to the body's systems that can:

increase susceptibility to infection,
lower metabolism,
increase food cravings and binge eating,
increase blood pressure,
increase depression,
decrease sex drive,
inhibit sports performance,
alter metabolism of sugar,
decrease concentration and memory, and
decrease longevity of life.
"Everyone has a different sleep need," said Dr. Martha Pyron, Austin sports medicine doctor and owner of Medicine in Motion. "The best marker of your sleep quality is making note of how you feel when you wake up. Do you feel energized and excited about the day? Or are you dragging yourself out of bed? If you're dragging, pay attention and take action."
Dr. Pyron's tips to improve sleep include:
Decrease caffeine and other stimulants.
Unwind before sleep time with a warm bath, book or something relaxing.
Limit daytime naps.
Go to bed and wake up at the same time each day.
Eat lighter evening meals.
Avoid late day exercising.
Drink plenty of water throughout the day, but not too much too close to bedtime to avoid nighttime bathroom trips.
Create a comfortable sleep environment by minimizing noise, limiting light, keeping the bedroom cool, and other personal preferences.
Find ways to reduce insomnia-inducing stress like a massage or yoga.
Stretch before bed to relax muscles.
If a person finds their sleep cycle is still regularly disrupted after trying these tips, it may be due to a sleep disorder. Visit a healthcare provider to be tested for sleep-related ailments and to explore other options for a good night's rest.
Medicine in Motion (MIM) specializes in providing top quality sports medicine in Austin, Texas, for athletic individuals of all ages and levels. The staff at MIM believes active bodies are healthy bodies, therefore it is the office's goal to keep patients energetic and fit. To that end, MIM provides treatment of injuries and illnesses, including the use of physical rehabilitation; promotes healthy living with personal training and nutrition coaching; and offers comprehensive sports medicine evaluations to optimize health, activity level and sports performance. For more information or for questions regarding sports medicine in Austin, contact Medicine in Motion at 512-257-2500 or visit the website at http://www.medinmotion.com.